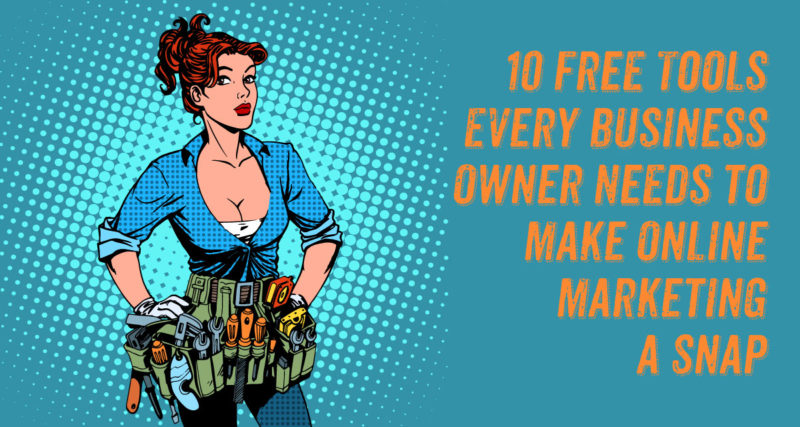 Online marketing can really be a time sucker if you let it. Then there's the hit your wallet can take paying for all sorts of fancy tools, that you don't have enough time available to really learn how to use them fully anyway.
Thankfully, there is no shortage of free tools available to us to help us with our time and productivity, so I thought I would share 10 of my favorites with you. If you have some favorites you'd like to share, please leave them in the comments below.
Hootsuite – Post to three of your social media sites for free, with just one click. Once you set up the streams you need (not all are available), just select the ones you want to post to, upload your image or paste the URL of the link you'd like to share, type a few words as a lead in and you can publish immediately or schedule for a later time. Super handy for setting up several posts at one time and scheduling them to drop them out to your audience.
MailChimp – By far my favorite of the major email marketing services available, and unlike the some  of the other larger email marketing services, MailChimp is free for most of us for a certain period of time. Their free account provides you with up to 2,000 names on your list(s), and up to 12,000 emails per month! They also offer other features that some of the other providers do not, such as an RSS campaign, which automatically sends your most recent blog posts out to your list without them subscribing to the RSS feed separately.
Trello – A simple to use project management tool that helps you keep track of tasks, communicate with team members and much more. I use this to keep track of my own tasks, and for a daily to-do list.
Asana – A more complex project management tool for managing larger projects and teams with tasks, sub-tasks, cloud storage and more.
Canva – Create graphics and memes for social media, presentations, email marketing and more.
Google – Google is very small business friendly and provides all sorts of useful tools to use for your business. You must be logged in to your Google account to access these. I'm sharing 4 of them that I use pretty regularly:

LastPass – A great tool for securely keeping track of all your passwords and log in credentials. The tool installs to your browser and you can easily log in to all your sites without having to look up log ins on a sheet of paper, or if you're like me, a 5-mile long spreadsheet. The app is really handy so you can get in to all your accounts from your mobile devices as well, however while the desktop version is free, the app is not, but it's still only $12 per year, so a great investment.
Zoom – A video conferencing service that allows you to do video, audio, screen sharing and recording of all your calls. This is great for online training and recording those trainings to provide to your client later, for an even higher value service.
Hubspot's Blog Topic Generator – Fill in the fields with topics you'd like to write about and the Blog Topic Generator will come up with a week's worth of relevant blog post titles in a matter of seconds!
Facebook – Wait, what? Facebook? YES! Now you may be wondering why I've included a social media site in this list. While some business owners are complaining about the fact that Facebook is charging for ads (hmmm, they ARE a business after all, and if you're not in the habit of giving out free work, don't expect other businesses too, either), the rest of us are figuring out how to leverage Facebook for free. Once you get the hang of it, it really does work – posting regularly and consistently, creating your own content to share, sharing other content that your audience will find valuable, and connecting with people, Facebook can be a wonderful tool to grow your business. Additionally, starting your own Facebook group for your niche, can go a long way towards connecting you with all sorts of individuals and businesses that you can develop wonderful relationships with. I started my own Ag Communications Facebook group, and it is a great resource, connecting professionals with end users and helping them learn about all the different things we do.
If you want to read more about how Facebook can work for you, check out one of my recent blog posts, How I Received Over 15,000 Shares on Facebook With This Image (and no, it's not obscene).
I hope you find some of these tools useful in your online adventures, and if you know of other tools that would be helpful to my readers, please share them in the comments below.
Save