The word "template" has become a bad word, when it comes to website design.
To most people, it means using something that has already been created, in essence, it's a "cookie-cutter" type of thing. Many other people could have used the same template, therefore your site is not unique.
And they would be right about that.
However, when I use the word "template", it refers to the custom template layouts I have created for each of my client's websites, so that elements of their website can easily be modified and updated, without having to update each page individually.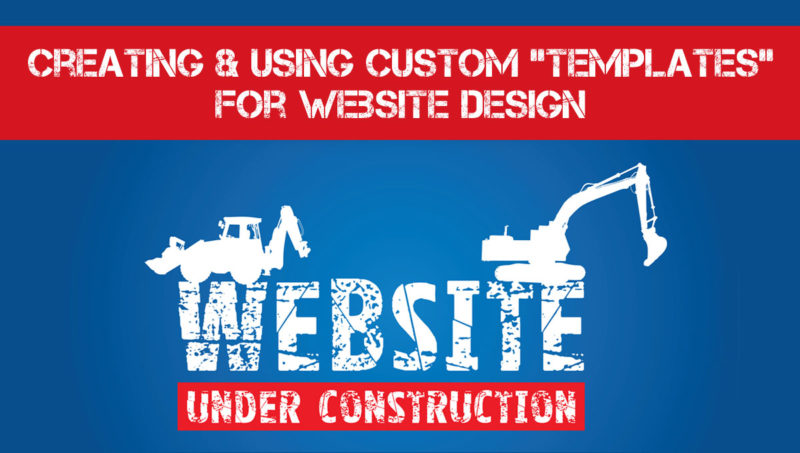 Different WordPress themes offer different options, however this would seem to be a pretty basic function to me. Why would someone create a WordPress theme, that doesn't allow for template layouts to be created, thereby saving the website owner incredible amounts of time, money and productivity?
Here's an example for you. I was recently contacted by a business owner who already had a website up and running however she needed a search bar added to her site. I wasn't familiar with the theme she was using, and that theme shall remain nameless, however when I got into her site to look around, I quickly determined that while I could add the search bar to the footer area of her site pretty easily, the footer itself had to be added to each page and post individually. What this means for her, is that now she, or or someone she pays, would have to go in and manually add the footer to each page and post that she wanted the search bar to appear on. In this case, that meant hundreds of individual pages and posts.
When I build websites for my clients, I use the Ultimatum framework theme, which allows you to create individual template layouts for various sections of your site. So let's say, for example, that you wanted one template layout for your home page, to increase conversion, and you wanted another for your static pages, a 3rd for your blog pages, and a 4th for sales or landing pages.
Each of these layouts is slightly different, depending on the unique needs for each. What they have in common though, in most cases, are the header, the footer, and maybe a sidebar. Or perhaps you have a sidebar for your static pages, and a different one for your blog posts. You could then assign each layout accordingly to posts, pages, etc. But, if you need to change a graphic in the header or a contact number in your footer, for example, you simply change that information once, in your header or footer, and then it is automatically applied to all of your pages and posts that are using that element. For most websites, every page and post will be using the same header and footer, so with one click you have just updated everything on your site.
For themes without this option thought, that means changing the header or footer on EVERY page. EVERY PAGE. Can you imagine how labor intensive and tedious that would be????
So, while yes, I don't like template "cookie-cutter" websites, the type that you typically get with online website builders such as Wix, or The Grid….not singling any one out here, just listing the first ones that come to mind….the word "template" can imply time-saving, money-saving, and efficiency, so don't automatically assume it's a bad thing.