While some may think that a cowboy's job is kind of fun and glamorous, it's still a job, and along with that, it has its share of stresses and plenty of long days. Everyone needs a break from the monotony of their routine, including cowboys, so we decided to take an extended weekend and head for cooler temps, family, friends and of course, a little rodeo.
Since Handsome hasn't met much of my family yet, they were our first stop. I hadn't yet seen my two nieces that were born earlier this year, so that was a top priority. Two-and-a-half month old Naomi was under the weather and not up for a photo op, but little Ella Rose and her brothers were more than willing to cooperate.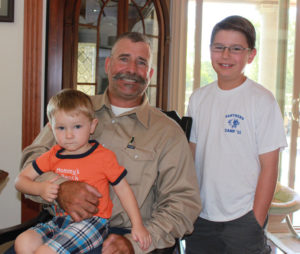 From here we headed south to Salinas for the big rodeo, pronounced ro-day-oh for this event. Salinas rodeo history goes back over 100 years now and big name cowboys from all over will compete here, in preparation to head for National Finals in Vegas this December. It was a glorious 72 degrees, which was heavenly compared to the 100+ degree temps we were having back in the valley. A little shopping, a few beers, it was a good day.
The next morning we got up early and headed to Monterey to check out the Monterey Bay Aquarium. The fabulous displays of life in the ocean is something to see for all ages.
Our trip then took us down the coast of California. If you have never made this trip, I highly recommend it! The coast of California is gorgeous and the drive between Monterey and Pismo Beach will take you through a bit of the redwoods, rolling hills where cattle are grazing and incredible coastal views.
Along the way we saw quite a crowd gathered on a beach, so we stopped to check out what all the excitement was about. Turns out this beach was home to dozens of elephant seals who had decided to nap here for the afternoon.
We stopped in Pismo Beach for the evening, grabbed a bit to eat and took a stroll down the pier. It was a nice, relaxing weekend, despite the fact that we almost never stopped moving. But, we all have to go back to the world at the end of the weekend, and as I write Handsome is headed up the mountain to gather cattle and start moving them to other pastures, in preparation for bringing them out in the fall.
Save