If your first question is "What is an opt-in form?", then we need to talk.
Email marketing is an important part of any business marketing plan, so capturing names to send those emails to is the first step. How exactly does one go about this in the most productive way?
Location, Location, Location
Where you place your opt-in form is critical to the number of people that will subscribe to your list. Designers have a term they use…."above the fold". This is an old newspaper term, meaning that anything that you want readers to see first, without opening the paper up, needs to be above the fold. For websites, this translates into what will visitors see without having to scroll. Don't make them hunt down your opt-in form, because odds are that they won't. Make it visible right off the bat. For most of us this means the upper right portion of your website. For some though, you may decide to put it in another location.
The Header
Depending on the design of your site, placing your opt-in form in your header, may be a good solution. Since the header is the first thing people will see when landing on your site, this is a great location, depending on your business and the design of your website.
Featured Content Area
Another good option, depending on the design and layout of your site, is to have a "featured content" area directly below the header and use this space for your email opt-in. This gives you quite a bit of room for your free offer and other interesting graphics and information.
Top of Sidebar
This is the most often used location for an opt-in form. It's still highly visible, yet doesn't detract as much from the site's overall aesthetic.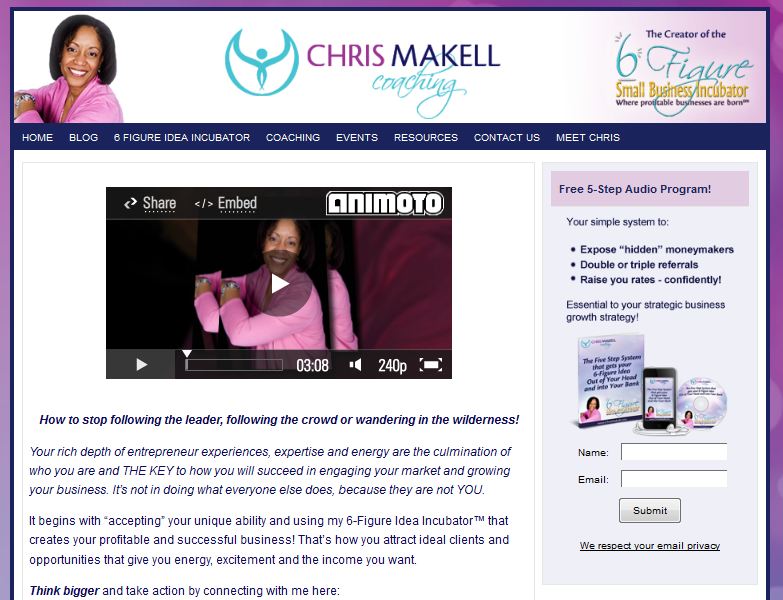 Lightbox
While pop up lightboxes that appear out of now where tend to annoy me, statistics show they do work to increase subscriber rates. I always close out of them without subscribing however, so I am not a fan of using this more invasive technique.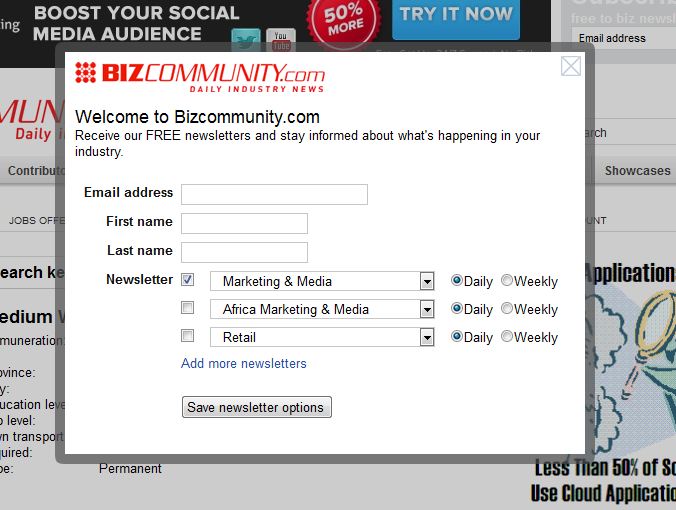 Within the Content
Don't forget, you can always place an opt- in directly within your content, too. If they're reading your post, you've already got their attention, so why not maximize on that and remind them that they can get more of your great content just by subscribing?
Footer
While I wouldn't place an opt-in solely in the footer, it's a great place for a subsequent or secondary form. As with most things, repetition is key, so there's nothing wrong with providing multiple places for your readers to subscribe and get the full benefit of your wisdom.
On my blog, I have a small content box above my posts that will link to an opt-in page. I also have the standard opt-in form in my right sidebar, and lastly I have a 3rd option at the bottom of every post. Adding the top content box and the footer opt-in really helped to increase my subscriber rate, as it gave people more opportunities to sign up and be a part of my community. Have you signed up for my list yet? Sign up now and get my free offer, my e-Book on how to build a better website for your business!
Free Offer
Sometimes people need a little extra encouragement to opt-in to your list. A great way to provide them with that is to offer something for free in exchange for their name and email address. There are many things you can offer them that they will love to have, such as a video explaining a particular technique that will help them, a free report, or an e-book. Think about what it is you have to offer, then provide that in a shortened version, of course, to give readers a hint of what you're about and how you can help them. They will appreciate the little bit of knowledge that you share, and will often come back for more!
Grab their attention with interesting graphics, benefits, etc.
If your opt-in form blends too much with your site, it might still get overlooked, even if you have it in prime real estate. I recommend using some eye-catching graphics and talking a bit about the benefits to them of subscribing to your list. Be a little creative and let your personality show through.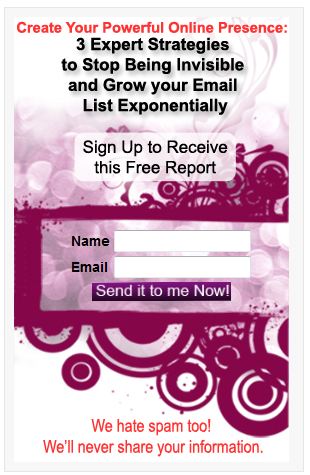 Lastly, change up your submit button from the ordinary "Submit" text to something much more interesting, such as "I want it" or "Send it to me", and customize your button graphic also for added flair. The opt-in shown above is a good example of how to implement this.
Do you have more great tips and tricks for getting the most out of your opt-in form and increasing your subscriber rates? Please share them in the comments below!