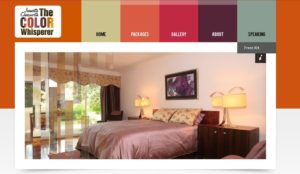 This month's website review is of "The Color Whisperer", an interior design site by Jeanette Chasworth. Given that Jeannette is a fellow "design junkie", like myself, I was really curious to take a closer look at her site and see what she's done with it.
Design, Layout & Conversion
I'm going to group these three together for this site, since she's gone for a somewhat minimalistic look, so these are tied even more closely together than in other sites. Jeanette is, after all, the Color Whisperer, so she knows what she wants here and what effect she's after, as far as the design goes.
I love the color blocked menu at the top, with the drop down menu and rollover effects. The colors here mimic the colors on the cover of her book, "What's Color Got To Do With It?", which you can see further down the page.
The image slide show smack dab in the center shows some beautiful photographs of rooms, presumably all done by Jeanette, which make me think, "Wow, I want her to do that to MY house!"
Something is amiss on the home page, however. I'm all for white space, but I'm not sure if this is intentional or if something on her site is not working properly.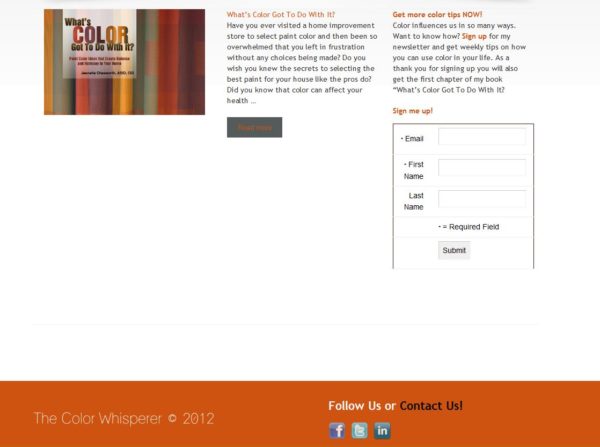 Here is where I think I'd change a couple of things and move things around a bit, starting with her book. Now, because Jeanette and I have met (she was part of my big AHA moment earlier this year), I know this is her book cover, but a new reader might not be aware of this right from the start. Here I might take a photo of the actual book, or create a book cover graphic (the kind you see for E-books), so that it's obvious this is a book that she is offering on her site. The small blurb of text doesn't really state this either, so a reader would probably think this is just another article or post. If you have a published book, by all means that is BIG news, so make sure you feature that item and show it off!
Additionally, I might make the book cover graphic a bit larger and move the associated text below the graphic, to help fill in the white space that kind of throws me off.
At first glance, I thought the text directly above the opt-in form was another post excerpt, but then I realized it was actually information about the opt-in. Two suggestions here: 1) Break up the text a bit so the free offer is right up front, then place the opt-in form, then finish up with the remaining text about what will be in the newsletter that they're signing up to receive. I'd also make the "Sign Me Up" larger, since it's a call to action and deserves to be noticed. 2) I would separate the main content area from the opt-in area with a thin border, just so people realize that the content over on the right side belongs together. This will make it a little easier for people to differentiate what's what, and they can organize it better in their minds.
The last thing I would recommend here is to move the social media icons to the top of the page somewhere. Make it easy for people to connect with you, so you can give them more of your brilliance.
For subsequent pages, I think some of the pages are too text heavy and could use more photos within the content, and I'd like to see the Gallery thumbnails a little bit bigger, since she's not hurting for space on those pages and it would decrease the size of the footer somewhat. Lastly, she might consider creating a right sidebar and having her opt-in form on every page, to increase conversion. It's important to remember that people don't always necessarily come to your site via the home page, so having the opt-in form in multiple places is often a good idea.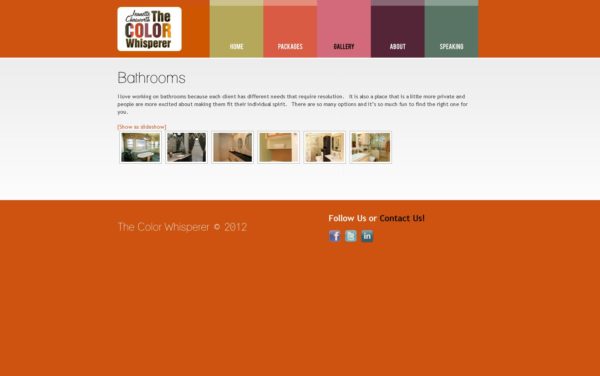 Search Engine Optimization
Using the SEO Book Toolbar I was able to take a quick peek at a few key things about the SEO for this site. As is common, there is a lot of wasted real estate in the page title, description and keywords.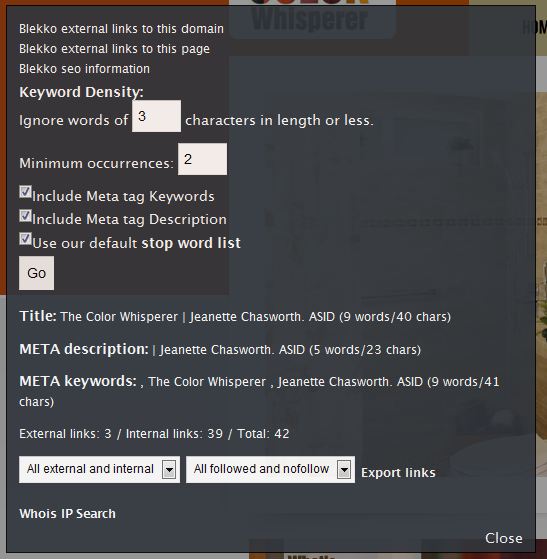 Remember, page titles should be no more than 60 characters, descriptions up to 160 characters, and keywords are unlimited (which isn't to say you should have 50 of them). Only using 40 characters for her page title leaves 20 characters empty! I would probably remove the ASID, and add something like "Interior Design | Her Town". Especially for businesses that are primarily targeting local clientele, using the city or area your business is located in, is a key part of your SEO, since people will often search accordingly. For example, if someone knows of Jeanette but only remembers her by "the Color Whisperer", they might search for that, so that is key. However, if someone is randomly searching for "interior design in Los Angeles", she probably won't come up, since those words are not anywhere on the site, that I saw (granted, I didn't read every page).
For her Meta description and keywords, she just repeats the same information! This is not providing any benefit to her SEO at all. Think about what terms people might use to find you, then do your keyword research and fine tune that.
Subsequent pages are equally as skimpy. The Packages page, for example, merely says Packages at the top. What about Interior Design Packages, or other keywords that apply specifically to the type of design she does. Usually, the more specific you can be, the better off you will be for search. Otherwise you're lost in a sea of thousand of other interior designer websites that are better ranked than you are.
Lastly, the tool bar tells me that there are only 62 external links to the domain, so growing this number by getting more quality, relevant backlinks will help with SEO as well.
If you'd like to read the other two website reviews I've done, so you can learn more about how you might improve upon your website, I encourage you to do so. If you'd like to submit your site for review, you can leave a comment below or send me an email. This is the last of the three sites that were initially submitted, and I would love to do more!