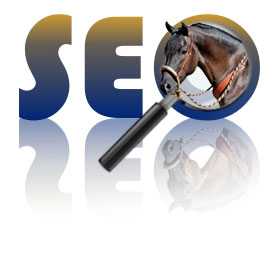 If you've been blogging or maintaining your own website for any length of time, you know the importance of SEO (Search Engine Optimization) and getting found online. At least I'm hoping you know this, or you have quite a bit of catching up to do!
One terrific Wordpress plugin that can help get your site ranked better in search results is the All in One SEO Pack. This plugin will let you input some of the very important information required for search engines to rank your site, such as Title, Description & Keywords. Since many DIY website owners are not savvy with writing their own code, it's a little beyond the scope of their knowledge to input this information in to the backend of their website. With this plugin, you don't need to know any code, you just fill in the blanks.
To download this plugin, navigate to Plugins > Add New and type the name All in One SEO Pack into the search field and click "Search Plugins". Allow Wordpress to install the plugin for you, then click Activate. If this is not working for you for some reason, you can do a manual installation. Not sure how to do that? Read this tutorial on how to install a Wordpress plugin manually!
Once this is done, you will see the All in One SEO Pack in the Settings Menu. Go to Settings, so you can enable the plugin and input the correct settings for your site.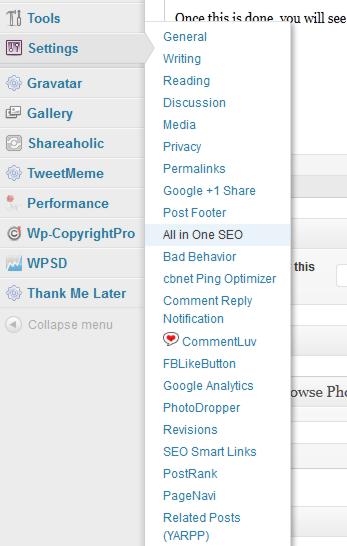 The first thing you need to do is enable the plugin. Without this, it will not be functioning on your site. In the next 3 fields, fill in your site title, description and keywords. These will become the meta tags written into the code of your home page. When you first started your blog, you probably filled in similar information in the General Settings area of your blog. This new information will override that previously entered text.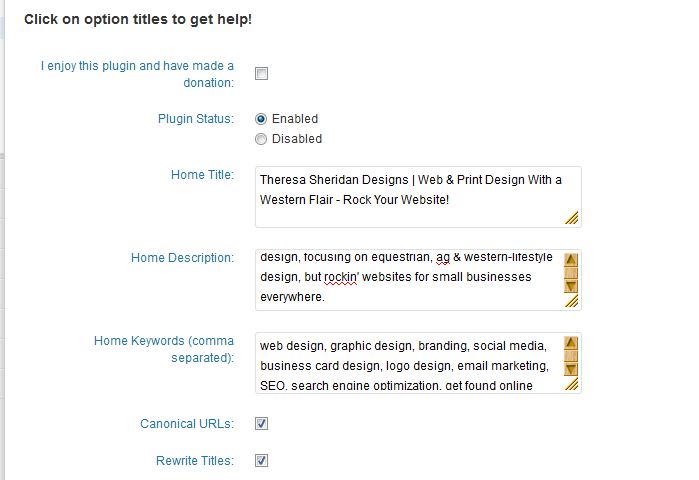 Here are some tips for filling in this information:
Title: This should be no longer than 60-70 characters and should be the title of your site. Please don't let it say "Home Page". Nothing about that phrase will help you get found online in search results. You can type in the name of your business, but also use your main keywords in the title. For example, the title of the home page of my main website (www.theresasheridan.com) says "Theresa Sheridan Designs: Get Found Online – Custom Website & Graphic Design | Porterville, CA. People do search for me by name, I've optimized much of my site for the phrase "get found online", I provide custom website & graphic design & I am located in Porterville, California. The last part is important because I really want to grow my business locally, so this helps me get found my people who are searching for designers in my area.
Description: The description is not quite as important as the title any longer, but it still plays a big role in SEO. Your description should be 160-170 characters and you should use your keywords to write a description that may compel those who read it to visit your site. The reason for this is, in most cases, this is the paragraph of text you will see directly below a site name in Google search results. Without a description here, Google will often grab the first text it can read on your page and use that below the site title. This may or may not make sense to your potential visitors, so use this area to your benefit and don't leave it out.
Keywords: These would be mostly your secondary keywords, since  your primary keywords are used in your title, description and hopefully in the text that is written on your page. Meta keywords are no longer as important as they used to be, but I would still advise using them, as competition is fierce and every little bit you can do to improve your SEO will help!
I like to leave the rest of the fields set to the default, but I would recommend inserting your Google Analytics ID here, and checking the box next to Use Categories for Meta Keywords. I prefer to use categories over tags, as it provides another method of navigation for your website visitor, either in the form of a category drop down in the side bar, or by creating a secondary category menu bar horizontally across the top. On my blog, I have added several of the categories that people visit most directly in the main menu, so that people can easily find them.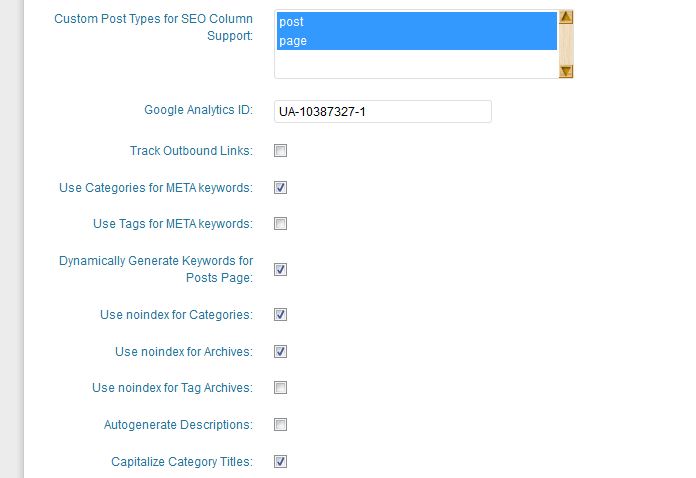 The really great thing about this plugin is that it allows you to fill in the Title, Description and Keyword information on every page and post, so that it is specific to that page or post. This is important, so that you can optimize each page and post for particular keywords and phrases.


Here you can see the title, description and a few of the keywords I have used for this post.
For more information about this plugin, visit the All in One SEO Pack website.
Want more information about SEO and how to get your website found online? I have dozens of articles on this blog in the SEO Category.