Times – they are a changing! Even for farmers and ranchers.
Short of a nation-wide blackout, technology isn't going away anytime soon, and like any other business, having a professional website presence is becoming critical to the survival of that business. You may feel like farming is more of a lifestyle – and it is – but, failure to also treat it like a business could lead to disaster.
Like a lot of farmers and ranchers, you might not see the benefit of having a website, and how it can help your business and your industry. Or, you might think that a website isn't affordable, or perhaps you're not sure if your customers use the internet that much.  These are all big misconceptions that can keep you from leveraging one of the most powerful marketing and communication tools there is.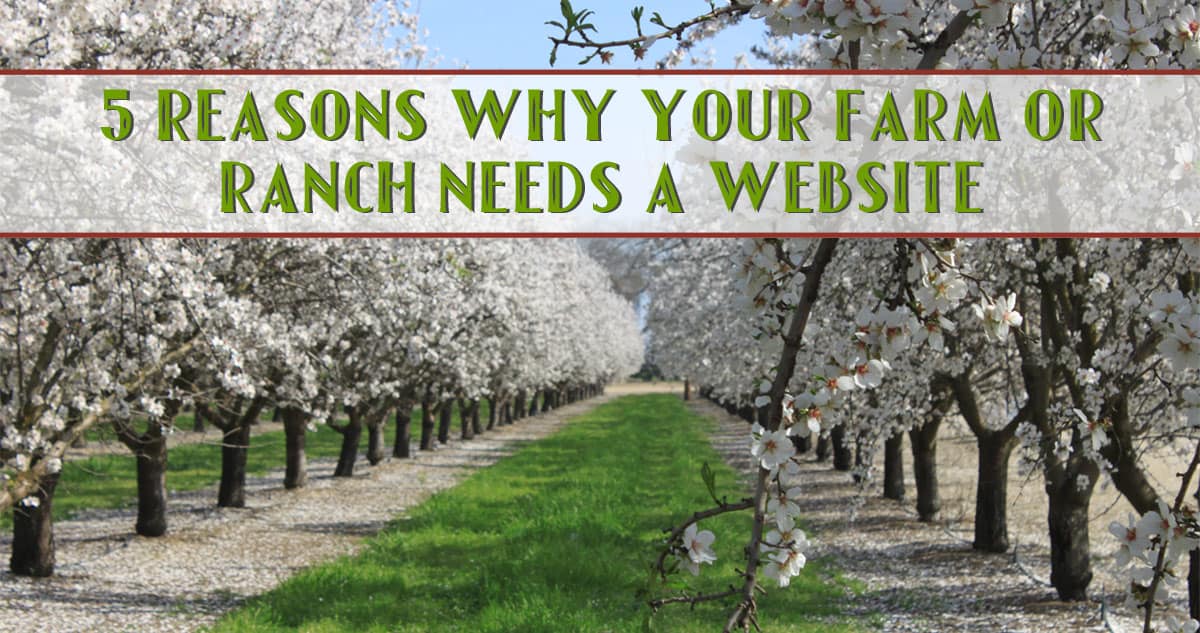 Beyond the obvious reasons for any business to have a website – getting found online, obtaining more customers and making more money – there are other reasons why having a website for your farm or ranch can be very beneficial.
It's all about credibility. I tell my clients this all the time. These days, with competition in every business becoming a bit cut-throat at times, if you're NOT on the internet, the perception is that you might not be taking your business all that seriously. Even if you sell commodities and don't sell directly to the public, having a website that describes your farm, how it operates, what your goals and business philosophies are can go a long way towards building public confidence, not just in you, but in the agriculture industry as well.While not having a website could cost you business, having a poorly designed site is equally as bad, if not worse in some cases. Your website is often times the first impression someone has of you, so you want that to be as outstanding as possible. While cutting a few corners and having a friend or family member build you a website might save you a few bucks up front, it could definitely cost you money in the long run. According to Adobe, 38% of people will stop engaging with a website if the content/layout is unattractive. Beyond the design, people need to find the information they want quickly and easily, so they don't click off and search out the competition.
Providing consumer education is critical these days. We all know how much misinformation about agriculture is floating around out there and we all need to do what we can to provide accurate and truthful information about our farming practices. Consumers need to hear it, straight from the farmer or rancher, and you are the perfect person to tell your story!Beyond just being an online brochure, your website can offer insight into the daily operations of your farm, giving your readers the reassurance they need to have confidence in the food you provide them.You may think that there are enough people on the internet telling their stories about farming, but none of them can tell it like you can. Everyone offers something different and unique, so don't miss this opportunity to share what you and your family do every day to take care of their family.
A website can make it easier to find employees, vendors and partners. These days, customers aren't the only ones on the internet looking for services and products. People looking for work, and looking for others to do business with rely heavily on the internet to help them find those individuals.Finding reliable workers in agriculture can be challenging. I hear regularly from farmers and farm/ranch managers that they are always searching for reliable employees who want to work, and they don't know how to find them. Having an Employment page on your website could potentially land you that employee you've been hunting for, as you will likely have more candidates than a farm without a website.
A website is more affordable than other forms of marketing. While the initial cost of setting up a website can seem high, costs can vary tremendously, but once it's up and running, the cost is minimal. Depending on your hosting service and your web design firm, costs can be as low as $15 per month in many cases.If you factor in the cost of print advertising and the limited audience you can reach with print ads, can you afford to NOT take advantage of this powerful marketing tool to reach such a wide audience?
Websites are always there when needed. With different time zones, schedules and lifestyles, some people need information when you just aren't available to call. Your website can be accessed by customers around the clock, to answer all those questions while you're working or sleeping.Potential customers or partners can find out what hours you work, what products you provide, get important Customer Service and if you have a FAQ page, they kind find out answers to the most important things they need to know. This will undoubtedly save you time and money, simply because it's efficient and doing the work for you.
Regardless of what business you're in, it WILL benefit from having a professional presence on the internet, and agricultural businesses are no different. Be sure to represent your business – and agriculture in general – with accuracy, passion for what you do and the desire to provide real information to consumers everywhere. Even though you're a farm, you're still a brand, and getting your message out is vital to your success.
---
#ranchmarketing #farmmarketing #ranchwebdesign