We help Equestrian, Ranching and Western-lifestyle businesses define your brand, clarify your messaging and eliminate confusion for your customer, so you can grow your horse or agricultural business.
Trying to do it all usually means nothing gets done exceptionally well. If your DIY or outdated website isn't performing for you, it's time to stop spinning your wheels and get your business on track. This all starts with an outstanding brand and online presence for your equine or livestock business.
Begin your design experience now with a free discovery call to see how simple – and fast –  it can be!
There are thousands of bad websites out there in the horse & western business arena.

Make sure they belong to your competition.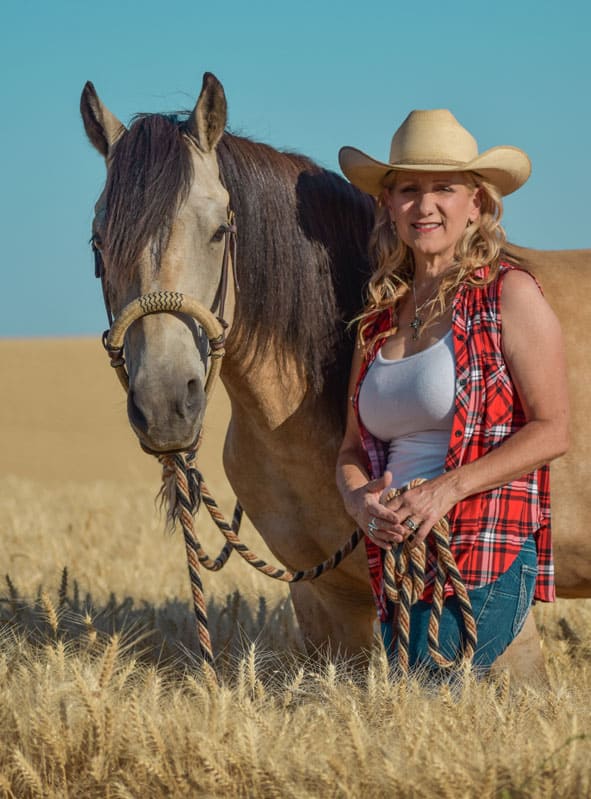 There is no "one-size-fits-all" solution.
Every client and every business is unique, and deserves a designer that understands the equestrian and agricultural worlds. I have a passion for the western lifestyle and the heritage that goes along with it, and I can help you with your passion, too!
Download My Service Guide
I know you've got goals and big dreams and sometimes the marketing end of things is just so overwhelming and you're not sure where to start, right?
Well guess what? I have the process and the solution to help you reach that goal!
If you are interested in becoming a Cowgirl Media client and talking more about exactly how I can help you achieve your business goals, then click the button below to fill out my quick contact form and download my Service Guide. This guide will help you get more in depth about the services I offer that can help you grow your business and reach your goals.
After you have submitted the form, you will be redirected to my calendar so that we can schedule your complimentary discovery call! This call will enable us to talk more about your project, help us determine if we are a good fit to work together and discuss the next steps in the process to get your project started.
I look forward to learning more about you and your business!
Get a beautiful brand new website in just one week!
Don't wait months to get the dynamic website you need to grow your business!
This streamlined, fast-tracked process will get your new website online fast, looking great and ready to work for you.
Website in a Week is for the busy professional who needs an attractive, dynamic and professionally built website now, without waiting for months and without the big price tag.
Website in a Week is a good fit for you if…
You need a professional looking website quickly and at an affordable price.
You have a basic understanding of who your ideal client is and what your offer is.
You have the majority of your content ready to go, or you are able to quickly create your content with my help and using the templates I provide for you.
You're tired of spinning your wheels and wasting precious time trying to DIY your website and it's just never quite right nor is it bringing you any business.
The idea of getting some basic coaching to help you get started with marketing your business online is something you'd really value.
Cowgirl Media has ensured that our website is up to date and remains a key factor in our success.
Your expert knowledge of WordPress as well as domain name registration and website hosting combined with your up to date knowledge of website design and just as importantly your availability for support whenever we need it are extremely important to us and valued by us. Our association and events have grown significantly over the past decade and the website and your support have been a significant contributor to our growth and success.
She's always available to answer my questions and fix whatever bugs I have.
Theresa has been my website designer/tech advisor since 2013. Super friendly and very approachable. She's been amazing! Her skills as a computer expert and website designer are phenomenal.
I am very impressed with the work Theresa has done for me.
She is easy to work with and very patient with a non computer head like myself. She delivered a website that was beyond my expectations and I will use her in future and highly recommend her!
I had high expectations, but Theresa exceeded my expectations.
I couldn't be happier with my new site! Theresa takes the time to really find out what your company is about and what your goals are for the site. Her knowledge and intuition as to what customers are looking for and how to really personalize a site amazed me!
My website redesign is working GREAT!
In just a couple of months of relocating to Idaho and having to build up my business again from scratch, people are finding me online through my website and my business is growing fast! Many thanks to you my friend!
Free Downloads & Resources
Helpful documents, training & products to grow your business.
Top Ten Ways to Improve your Farm or Ranch Website Today!
A free eBook with 10 actionable items to improve your farm or ranch website.
Website Beginner's
Checklist
Important steps to get your WordPress website up and running quickly and easily!
DIY SEO Audit Checklist for Beginners
A 13-point checklist to improve your website's search rankings and drive more traffic.
Free Stock Photos
A collection of free stock photos, textures and graphics you can use in your marketing.
The Branding Pen
Free articles to help you create and leverage your brand.
Free Color Palettes
Free color schemes for your next design project.