"Hi Theresa, I just wanted to drop a line and thank you for having done (and continuing to do!) such a terrific job on my website. It receives an amazing amount of traffic and everyone just loves it. I get the most wonderful compliments on the site, often from complete strangers. I really appreciate your suggestions, and have learned to trust your judgement implicitly! THANK YOU!"
Curious about what Website Packages we offer?
Already know you're on board but not sure what to do next?
Use the scroll bar to the right of each image to scroll down and view the entire web page. Images can be clicked to go to the live website.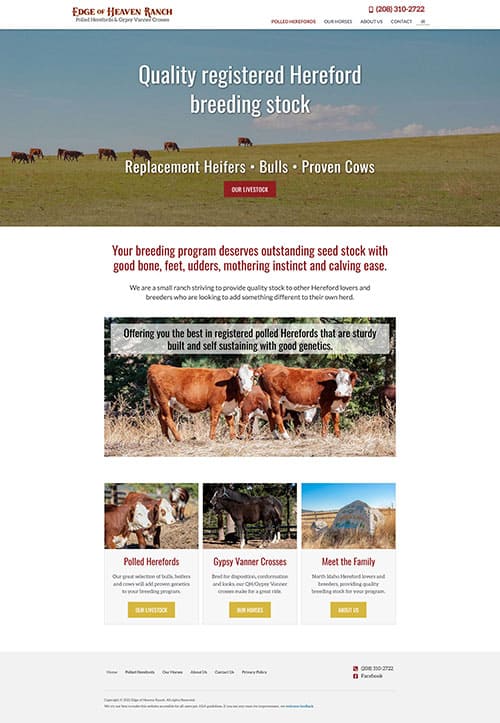 A local north Idaho Hereford breeder needed a website for her growing cattle seed stock business. She is also in the beginning stages of breeding Quarter Horse & Gypsy Vanner cross horses, for a great all-around riding horse.

Long time friend and business associate Jamie Samples had been using Shopify to sell her social media services and products, but the website wasn't performing all that well for her, and she wanted much more in the way of design flexibility. We created her a new WordPress site and used the Dubsado CRM to embed proposals for her services directly on the landing pages so that clients would automatically go right into her workflows.
Her website is full of great design elements and really speaks to her personality and professionalism.

Brooke came to me needing a logo and website for her business and she wanted it to convey "the love of a girl and her horse". She needed a place to promote her courses, virtual lessons and consultations, as well as showcase her collaborators that she helps to promote to her almost 500K Tiktok followers.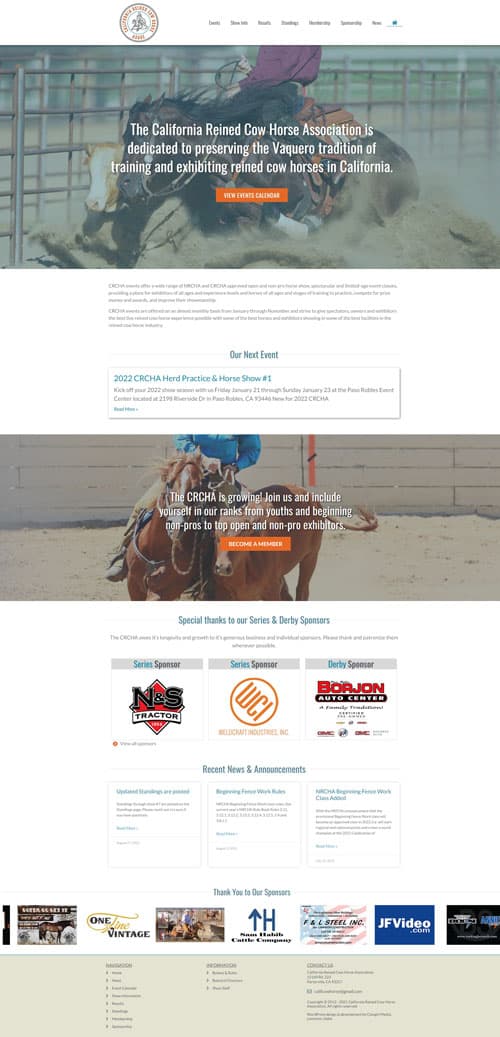 California Reined Cow Horse Association
This is the 3rd rendition of their website that I have created for them. Formerly Valley Cow Horse, then the California Cow Horse Association and now the California Reined Cow Horse Association, their new website is more dynamic, more modern and provides members with a powerful website for all their needs.
A family owned & operated excavation contractor in Juliaetta, Idaho who started with no web presence at all and has grown immensely over the years.
We took drone footage on one of their projects and used it in the hero section of his homepage for a dynamic feature that catches the visitor's attention immediately and draws them in.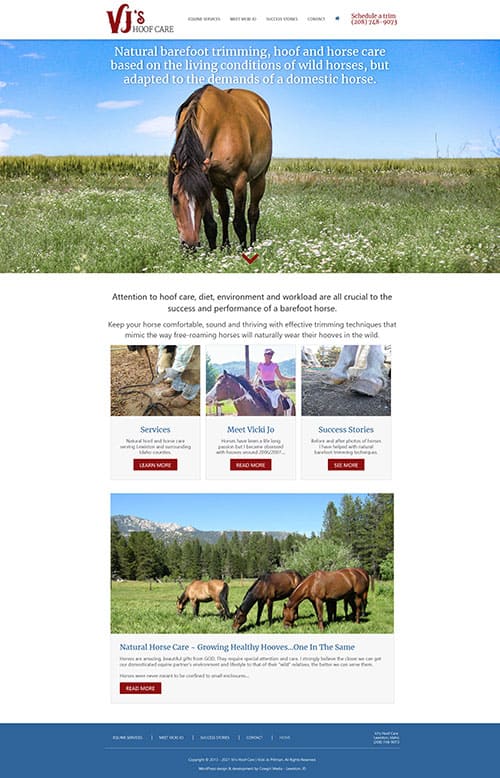 Long time client, good friend and barefoot horse trimmer Vicki Jo Pittman, recently relocated to Lewiston, Idaho from California, so we revamped her website to help her grow a new clientele in a new area.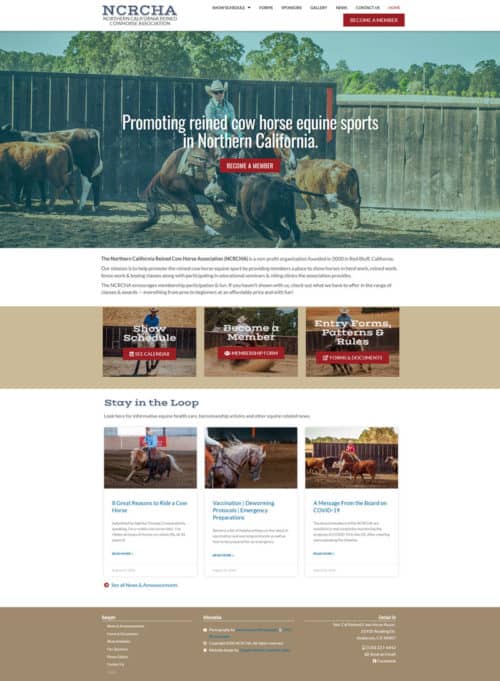 Northern CA Reined Cow Horse Association
Previously a very outdated HTML site, the NCRCHA came to me looking to update their site for better functionality and a more updated, professional look for members and events.

Waterfall Miniature American Shepherds
Long-time American and Australian Shepherd breeders in Minnesota, they had been working on DIYing their own GoDaddy site, but it proved to be more challenging than they bargained for. They purchased my Business Basic Website Package and I was quickly able to get their shiny new site launched so they are more equipped to find new homes for their amazing dogs!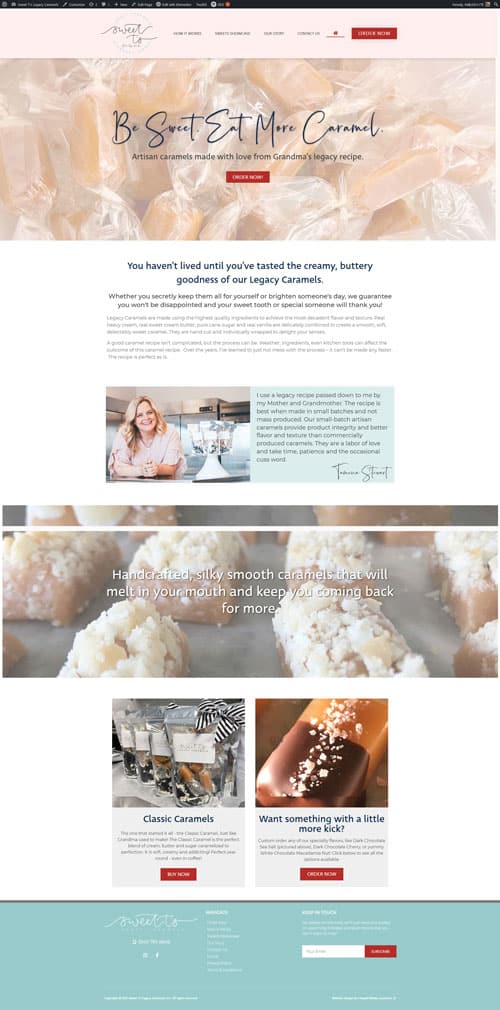 Sweet T's Legacy Caramels
Tamena had been trying to DIY her site, using several different platforms, for quite some time and finally contacted me to help her as it was becoming a bit too overwhelming. Her new site is using a simple PayPal button for a single purchase, but it's set up to expand and handle eCommerce whenever she needs that full functionalilty.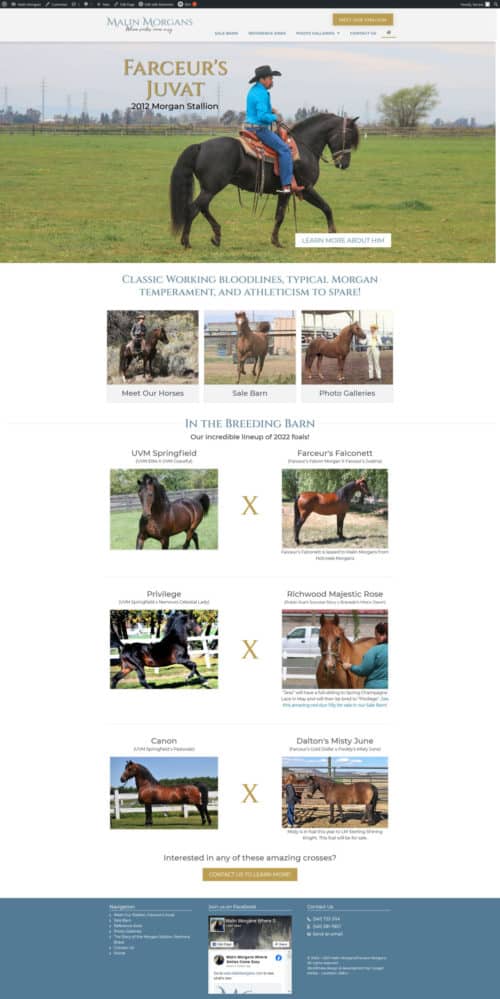 A long time client, who was changing her focus and introducing a new stallion, we revamped her site using Elementor Pro, more modern, dynamic elements, and and upgraded home page for more conversion.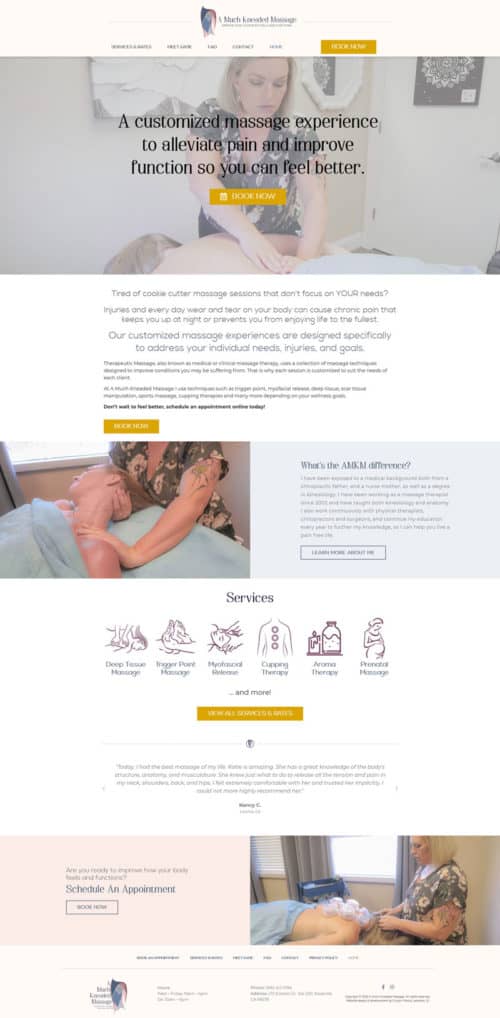 Massage therapy studio in Roseville, California, this client was using a very poorly designed association template website that was not working at all for her. This site includes embedding the Acuity Scheduler for client booking and payments.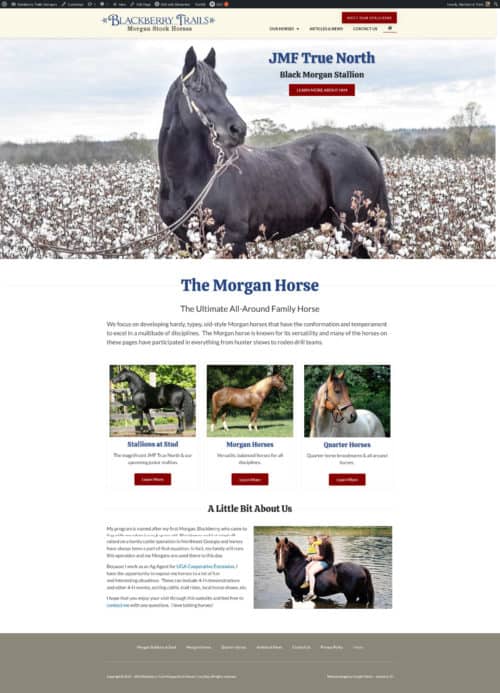 Blackberry Trails Morgan Stock Horses
A long time client, it was time to update her site to a more modern and effective layout using Elementor Pro.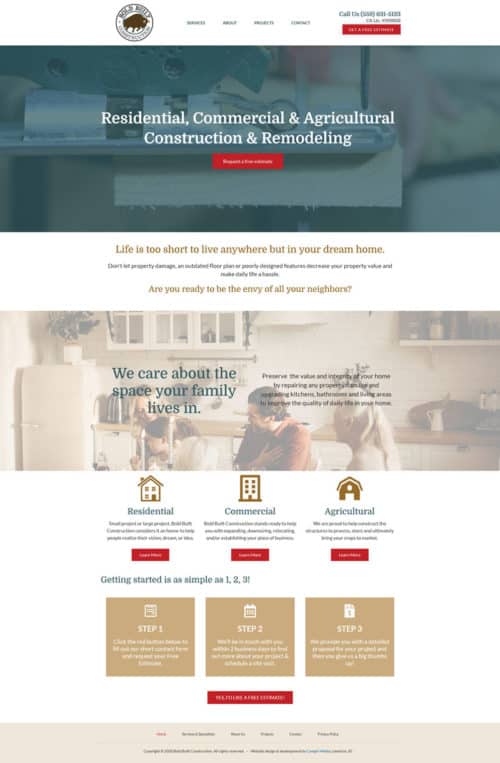 A very simple 5-page brochure site, built with my Business Basic package, which is a lot of bang for the buck!
This website uses a stock video for the hero background area, which can be a nice dynamic alternative to just a static image.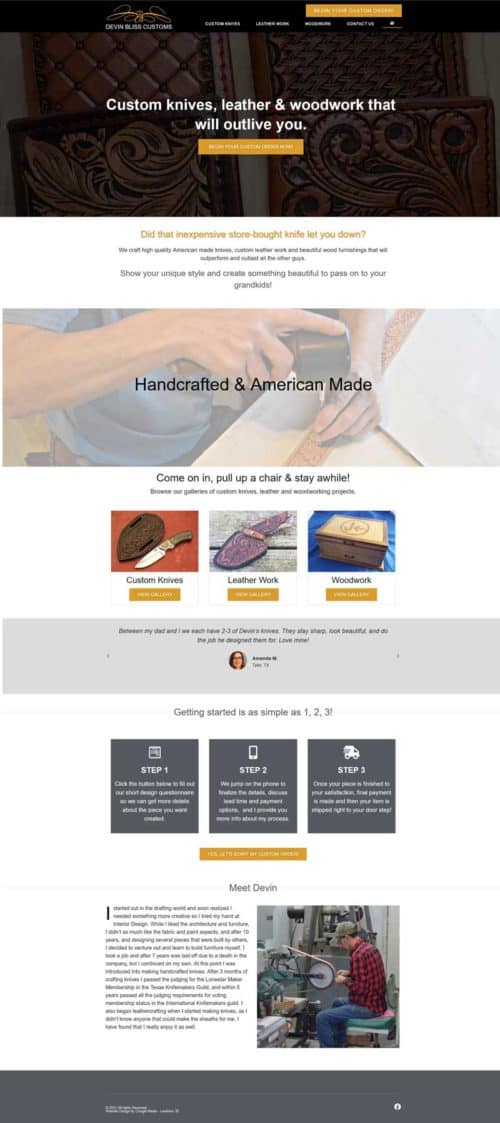 Devin Bliss Custom Knives
Showcase site for a Hawkins, Texas knife maker who also specializes in leatherwork and woodworking.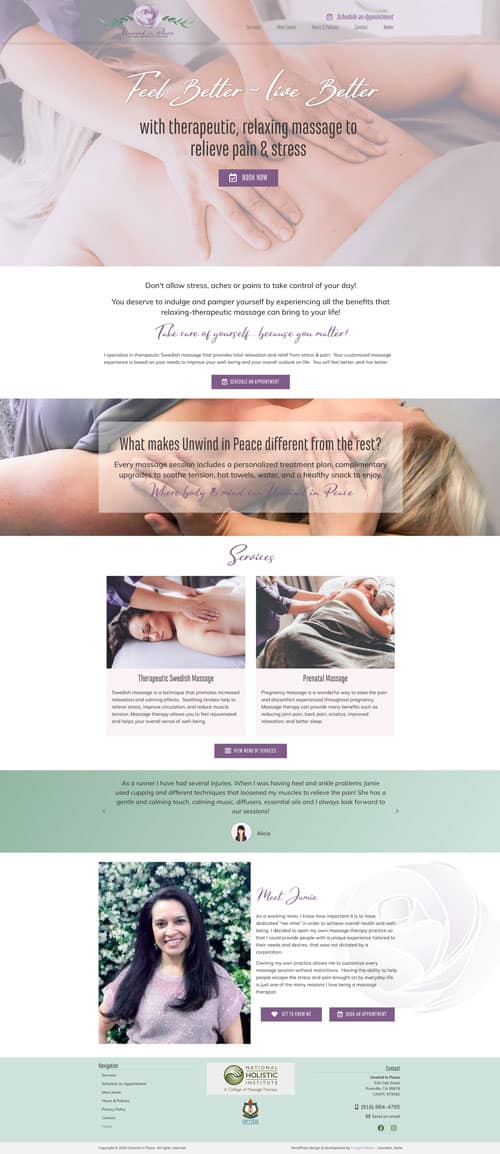 After using a templated industry website that wasn't working for her, Jamie came to me to revamp her site for better aesthetics as well as online booking and functionality.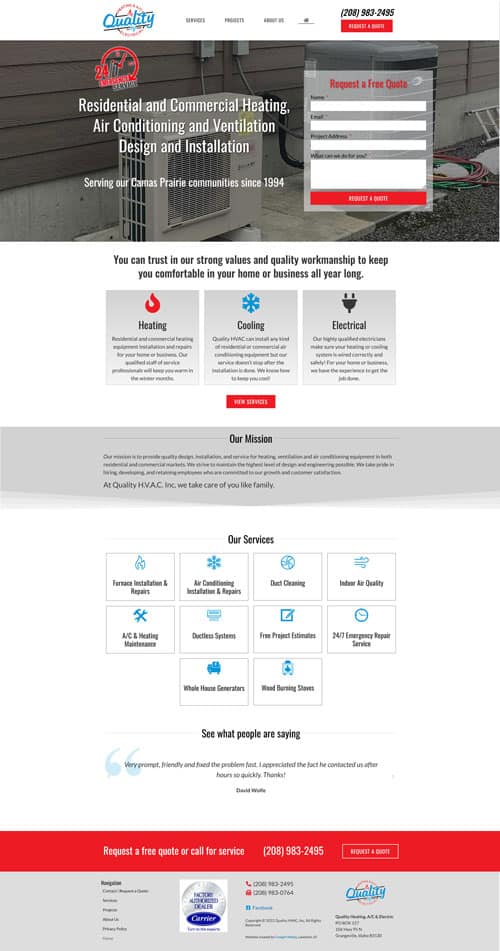 Quality Heating, A/C & Electrical
Family owned & operated small business in Grangeville, Idaho that came to me looking to update their very old website. This build was simple, minimalistic & straight forward, focusing on providing free estimates to clients, and building awareness in their local area.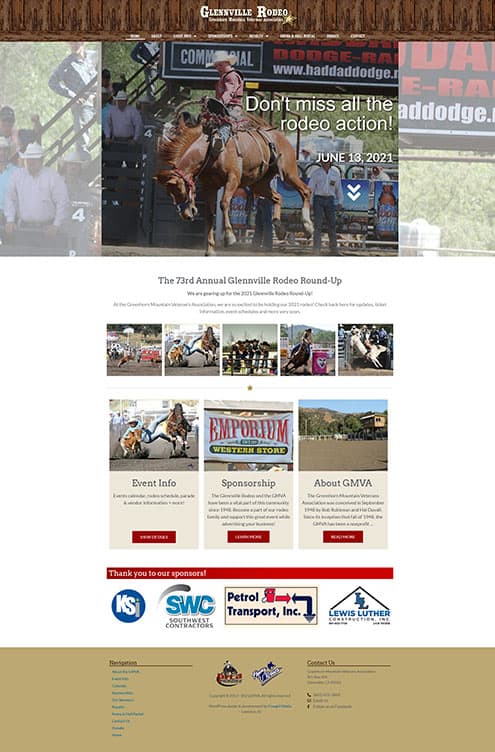 The largest one-day rodeo in the West, located in Glennville, CA. The GMVA has been a long time client, and we recently changed their theme from an outdated one to using Elementor so that we could add more dynamic features and they could more easily maintain their website.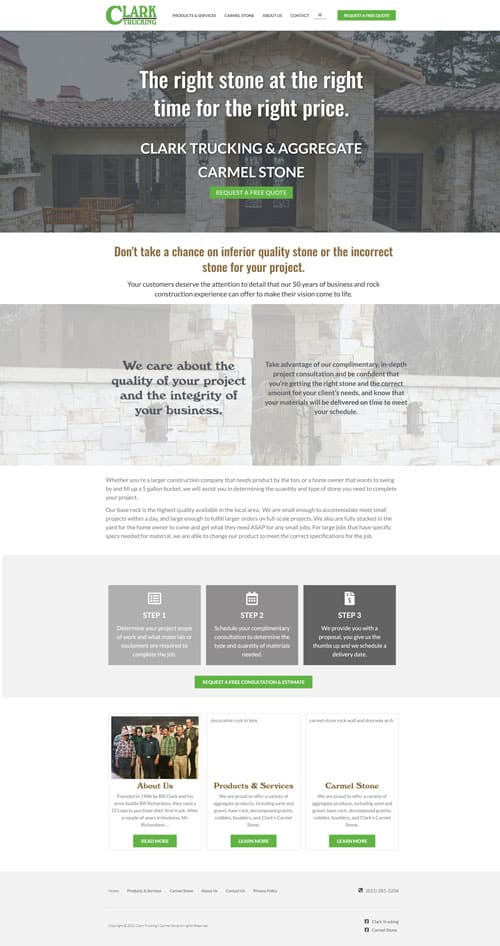 Clark Trucking & Carmel Stone
Providers of aggregate stone and trucking services in King City, CA, they are the exclusive source of Carmel Stone, a premiere stone building material mined in the coastal mountains of California.
Curious about what Website Packages we offer?
Already know you're on board and ready to get started?