Website maintenance, like so many other things when it comes to our online presence, just can't be ignored any longer. It's the oil in your well-greased machine. Without it, the machine stalls and stops working.
I can't tell you the number of clients I've had over the years that invest in a professional website and then let it sit. For years, in some cases. No updates to content, let alone updating the all-important components of a site. Eventually, these components will just stop talking to each other and one day your website is just broken.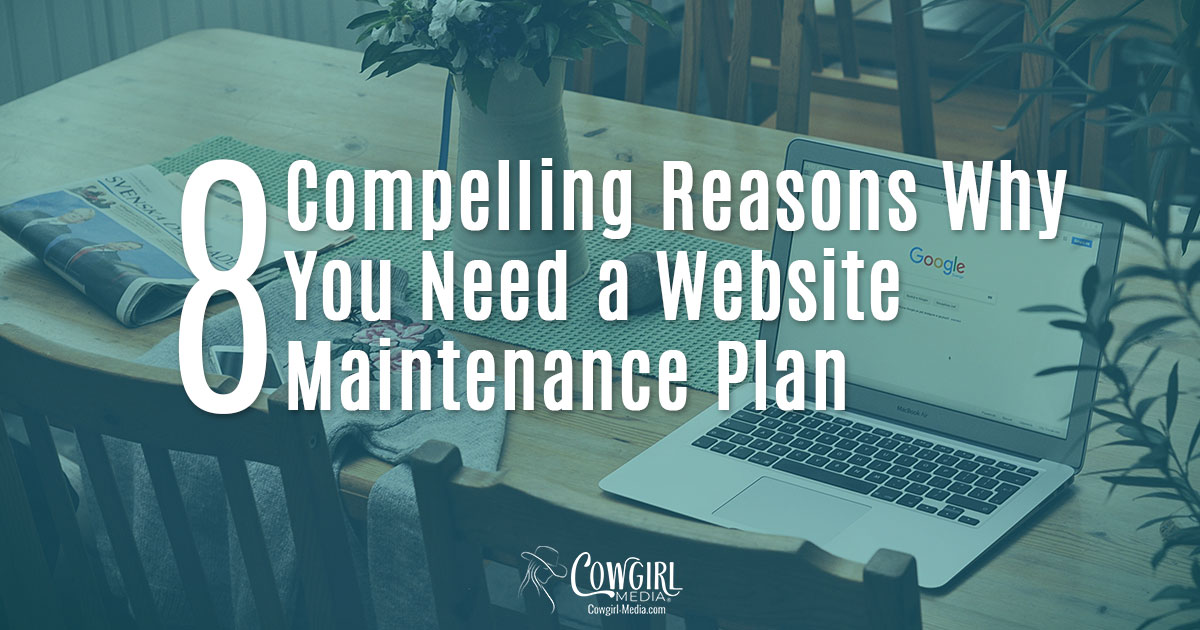 Listed below are my top 8 reasons that you need regular website maintenance services for your business website.
Website Security
Using a monitoring plugin to keep track of site activity is critical to preventing hacking attempts. While nothing is foolproof, doing nothing is just irresponsible and potentially very costly.
If you don't have some type of website security in place, your website is at risk for hacking and bugs that can shut your site down in a heartbeat. Or, possibly worse, your pages will be hi-jacked and the next thing you know, you're in the business of selling Viagra!
WordPress, Theme & Plugin updates
Failure to update WordPress, the theme your site is using and all the plugins that are used for functionality is a recipe for disaster, at some point in time. At the very least, these pieces will eventually stop communicating and your site will break. At the very worst, not updating these elements creates holes for hackers to get in to your site and cause an incredible amount of mayhem. Trust me, I have fixed and restored many WordPress sites over the years, because owners don't want to spend the money to keep them updated. Fixing them, if they can be fixed and don't have to be rebuilt, can cost much, much more.
Website Backups

While many Managed WordPress hosting platforms provide an automatic backup, if your site is on a cPanel or other hosting platform, your hosting company may not be backing up your site for you.
A good website maintenance plan always includes a backup of your database, your uploads and other important components of your website. In the actual event of a hacker getting through, and you catch it in time (because you're monitoring your site, right?), you would have a back up available to easily restore your website and you can breathe a sigh of relief.
Priority Support
If you have a problem with your site, a website maintenance plan can offer you faster support over those without, saving you time and money.
Updated Website Content
If you are a busy business owner who just doesn't have time to add new content to your site, which we all know is super important for SEO, a website maintenance plan can offer you various levels of support in this area.
Whether it's changes to existing content, or curating and adding content, wouldn't it be great to not have to worry about this critical aspect of maintaining your website?
Website Analytics
Keeping track of website visits and your analytics is a major part of making sure your target audience is the focus, and you know who is coming, where they are coming from, how long they are staying on your site and where they are leaving from.
This data can help you fine tune your opt in and other lead generation processes on your website.
Consultation Time
All too often it's important for someone to pick up the phone and get some answers to those burning questions. A good website maintenance plan will include time for those personal consultations, so you can discuss other marketing & website concerns. Consultation time could even be used for website training.
Overages Billed at a Reduced Rate
Many plans will offer a reduced hourly rate for overages. If your plan includes an hour of updates every month, but you need more work, the amount of time exceeding that hour would be billed at a reduced hourly rate. This  can ultimately save you quite a bit of money over time, if you're someone that likes to make frequent changes to your website.
If a website maintenance plan is something you've been thinking about, but haven't yet taken the time to implement, I offer several different plans to choose from. Click below to learn more!