Articles are another great way to position your brand outside of your own social media and blogging efforts. Articles can be shared and distributed in numerous way, both on- and offline, and can tap into a completely different audience.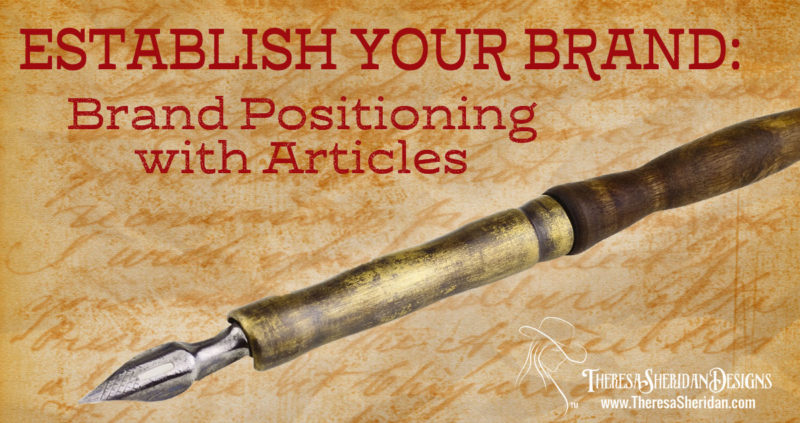 There are two effective ways of using articles to position your brand; guest blogging and printed articles in magazines and other publications.
Guest blogging involves searching for, and submitting articles to, other websites and blogs where your target audience is hanging out. Maybe these websites and blogs are more established and have considerably more traffic than you do, so this is an excellent way to expand your reach and drive more traffic back to your own website. Most guest posts are allowed at least one link back to your own website, either within the body copy, or the author bio (sometimes both). These links are negotiable, so it all depends on what you work out with the site owner.
Printed articles in industry magazines, local publications, club newsletters, etc., are another great way to reach a new audience. Believe it or not, not everyone is online all the time, so don't forget to search out these opportunities. All publications will usually allow an author bio, where you can write a few sentences about yourself and provide a URL to your website for readers to visit and learn more.
A couple of things to keep in mind…
Be careful of article marketing sites. These would be sites such a Ezine Articles, GoArticles, ArticleCity, etc. While these were very popular years ago, and worked very well to drive traffic back to your website, the problem now is that Google frowns upon this and doesn't want to see the same article by you posted in 10 different places (read more on this below). Google will often interpret this as an attempt to manipulate search engine rankings and that will make the Google Gods very unhappy.
While these sites have specific guidelines about what they will accept in order to keep content at a high level, in my opinion posting articles here can have negative effects on your search rankings. Posting one article to each site may be fine, but do not post the same article to numerous different sites.For more on this topic, read this article: Does Article Marketing Still Work.
Duplicate content & Google. This issue has come about in recent years, especially with the advent of Google Panda and the algorithm changes they initiated back in 2011. In a nutshell, Google doesn't like duplicate content. If Google sees your content in more than one location, it will automatically rank these pages lower, thereby removing whatever competitive edge you might have had. Google has even gone so far as to penalize sites for duplicate content, making it extremely difficult to correct the situation and improve your ranking in the future. In the past, duplicate content presented an issue only to the duplicate pages that were in question. Now however, with Panda and Penguin, your entire site's ranking can suffer and it's just not worth the risk. Good SEO juju takes time and work to create, so why risk blowing it?
For more information about duplicate content, visit https://support.google.com/webmasters/answer/66359?hl=en.
Wherever you decide to submit your articles, be sure that you are providing valuable content, and not a hard sell. This is not the place to promote yourself, but the place to show your expertise and help your readers solve a problem. Think about what issue you can solve for them, and then write about it. Think about your own challenges that you've come across and how you solved them.
Also, be sure to follow the other guidelines and ideas set forth in the previous module about positioning your brand with blogging.
As always, keep your brand message in mind and be true to it.
Save