Having an established set of Brand Tone Words, and then a Mood Board to visually enhance that set of words, is a good first step towards establishing your visual brand.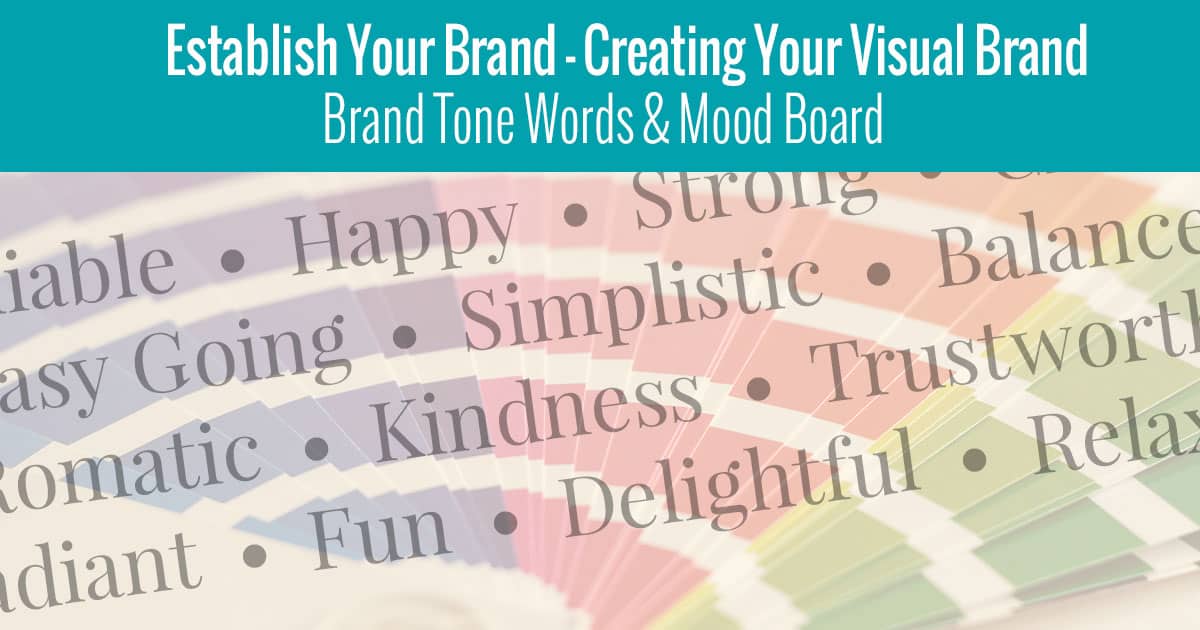 These Brand Tone Words set the stage for the visual "feel" of your brand and what imagery and colors you'll use to enhance that feel.
When determining what words will best represent your brand, think about the values and emotions you want your brand to convey to your audience.
Don't clutter the feeling with too many words. Pick 5-7 that BEST represent you and your brand, so that your ideal client will identify with those words, thus helping to draw them in to your brand.
Here are some examples:
Trustworthy
Fun
Creative
Kind
Simplistic
Radiant
Organic
Balanced
Light
Lush
Romantic
Familiar
Adventurous
Fun
Bold
High-spirited
Keeping your brand tone words in mind as you craft the rest of your visual brand will help you to continue to select the elements that best represent you, will appeal to your ideal client and help to keep your brand message consistent and on point.
Mood Boards are very important to ensure that the vision you have for your brand is thoughtfully expressed and consistent. A mood board is a collection of images, patterns, elements & colors that have been curated and arranged in a way that clearly portrays the "mood" or theme of your brand.  It will be referred back to time and time again as your brand grows and evolves.
Mood boards are primarily used for internal purposes and are not something that the public would generally see. Initially, put as many elements into your mood board as possible. It's always easier for you to take out elements that don't fit. The images that you use can come from anywhere, as you won't necessarily be using these on your website (unless you curated them from a stock image site and plan to purchase them later), they are simply to convey the "mood" of your brand. The idea here is that the mood board will help any member of your team immediately understand the mood and be able to create content in keeping with that mood.
Mood boards can come in many different formats, including a variety of images that help convey the feel you're after. There is no set rule in how to create yours. You can create a physical mood board, or you can use various graphic editors to create a digital version. There are many online options for creating a digital mood board, including Canva & Adobe Spark.
Attempting to craft your visual branding without establishing the tone and feel of your visual brand will make it more difficult to keep the elements and messaging clear and concise, so that your ideal client can quickly understand that you are speaking directly to them.