In the past, the word "advertising" meant putting ads in the local paper, the Yellow Pages, industry publications, or anywhere else we could think of that our ideal customers and audience would look. Inserting flyers into newsletters, posting flyers on bulletin boards…you get the idea.
Our market was limited largely to only local populations as we just didn't always have the resources to reach people in a more global way.
Now, however, things could not be more different.
We can sell our product around the world, because we can advertise in a more global way and reach millions more people, potentially.
If you're a plumber, for example, you may benefit more from local print advertising, because you're most likely not interested in taking on a plumbing job across the country. But for many of us, we want our reach to extend as far as possible, so online advertising can be very beneficial.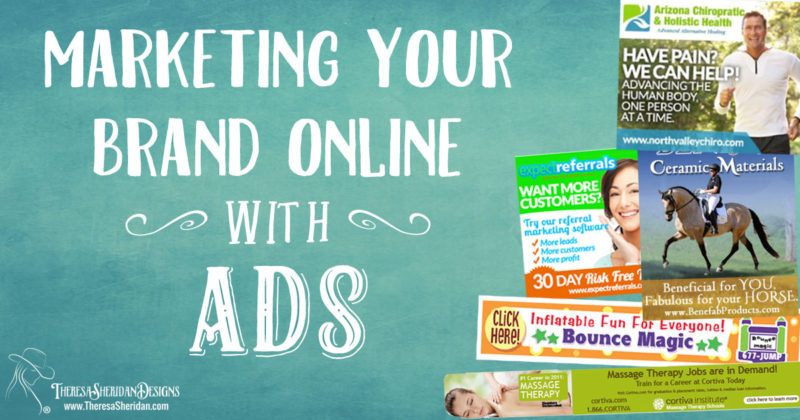 Pay Per Click Ads
Probably the most common type of online advertising, your ad will appear in the featured ads section at the top of search results if you're advertising with a search engine, or on the right side of the search results in the more generic ads location. Placement depends on the type of ad you purchase and who you're advertising with.
When you set up your ad, you determine who your marketing is directed at; geographical location, age group, sex, interests, etc, as well as what keywords you're focusing on so that when those keywords and phrases are searched by an individual, your ad will appear. With PPC ads, you essentially "bid" on a keyword or phrase. The higher your bid for this phrase, the better chance your ad will be returned in search over someone with a lower bid, therefore the higher your click through rate, potentially.
The most common type of PPC ad is Google Adwords. PPC ads are text only, so they must be carefully written with the appropriate keywords and with a call to action that will compel a reader to click through. Poorly written ads are a waste of your money, so it's a good idea to hire a professional that knows what makes people click on these ads, so that you actually see some results.
Facebook Ads
Of course we cannot talk about PPC ads without mentioning Facebook ads. Facebook ads are an extremely effective way of marketing to a very specific audience. Facebook allows for a larger variety of options when selecting who you want to present the ads to, so that your chances of your ad being clicked are much greater, than a regular PPC ad. As with normal PPC ads, when a user performs a search in their web browser, Facebook will know this, and return Facebook ads that are targeting the same keywords. Many marketers believe that Facebook ads are a better investment than Google Adwords, and you can achieve very good results for a minimal investment, so you might consider giving these a try before using Adwords.
Banner Ads
Banner ads are similar to PPC ads, in that they appear on various web pages, based on recent searches performed by the user. So if I'm searching for "custom Wade saddles", and then I go on to some other sites, any banner ads that are set up with that keyword phrase  might be returned and display on the next pages that I visit, depending on what pages those are, of course.
In order for the banner ads to display, a website must be set up with a service such as Google AdSense, so they display random banner ads on their page. When people click on these ads, the website owner gets paid for that.
Google does return search results and displays its advertisements in a regional manner most often, so that users will see ads from businesses that are close to them geographically.
One of the bonuses to banner ads over PPC ads, is that these are graphics, not just text, so you can make them pop with colors and animation to be a little more of an attention-getter. There are still methods to the madness however, so you want to make sure the ad has a call to action, and that the text content within the ad is compelling. It's still worth working with a professional to design your ad so it has a better chance of being clicked on.
Writing Effective PPC Ads
Understanding what keywords will return the best results for you is all part of your total Search Engine Optimization program, and can be complicated and confusing. Unless you have a good understanding of how organic search works, you may want to consult a professional to help you write the most effective ad campaigns, so you're not wasting your time and your money with poor ad placement and poorly written ads. If you want to do some keyword research yourself, try the Google AdWords Keyword Planner. Avoid using keywords that are too vague, that you stand no chance of being returned in those searches. An example of this might be "horse training". While some local trainers might show up in these searches, you probably won't, so don't leave it to chance. Select keywords that are more specific, such as "barrel horse training", or "horseback riding lessons". Since the demographic selections you set up in the ad will take care of the location, you don't have to worry about this in your keyword selection too much. It will help immensely if your website is already set up properly for local search.
If the ad is a PPC ad, your potential customer has executed a search and is looking for something specific. If you write your ads to speak directly to them, there's a better chance they will click on your ad over another and visit your web site.
The first step in writing effective ad copy is to see what your competition is up to. Google your keywords and see what featured ads and sponsored links come up first. Look at their ads and try to identify a differentiator that will make you stand out. This is your opportunity to sell the benefits of your product and tell the user why your product or service is better than your competitors. Don't think features, think benefits…this can be critical to the success of your ad.
When writing your ad, be sure to use your keywords in your title and even in the description when you can. If you're a horse trainer and your keywords are "reined cow horse training", make that the title of your ad. It does not have to be your business name, and in fact it shouldn't be in most cases, since people most likely won't be typing your business name into search unless they've already heard of you. Using the keyword in the title will greatly increase the likelihood of it getting clicked, as that is exactly what they were searching for.
For the description, understand that people want to accomplish or learn something, be entertained or take advantage of an offer. People are motivated by fear, money, hope, lust, despair, health, safety, education, appearance, status etc. (Although maybe not all at the same time!) You will want to include a reason for someone to choose to respond to your PPC ad and take action. Care about their problem and create an emotional statement using action oriented language. Remember, they need to know what's in it for them.
Make sure your ad also has a specific call to action, that will reinforce the desire and create a bit of urgency. A call to action (CTA) is the language that tells the searcher what to do – in other words, giving them a reason to click. The default "Buy Now!" may be better than no CTA at all, but it's still not all that great. It's too cliché, too general and too pushy for an effective ad.
Using the same example, if you're a reined cow horse trainer, your CTA might read something like "learn how to beat the competition". If you specialize in giving lessons to beginner riders, your CTA might be "realize your child hood dream…". You get the idea.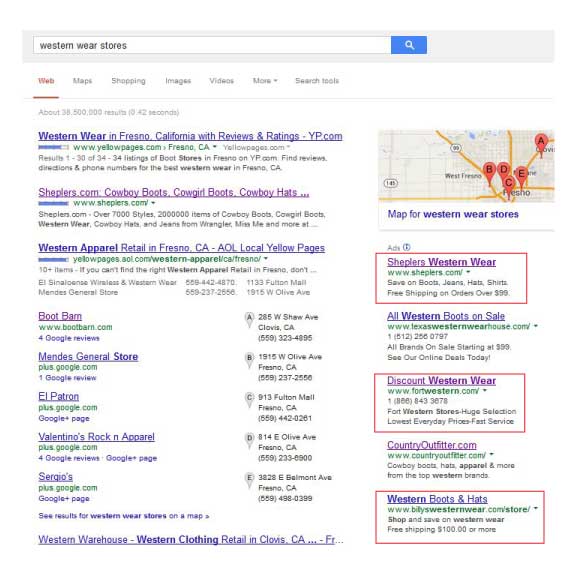 In the example above, notice the ad headlines in the highlighted ads. Only one is using the actual business name, but that is a well known name, and it also has 2 of the searched keywords in the title. Also, note the strong calls to action in the top and bottom ad, using the words "shop" and "save" to let people know what they can expect if they click the ad.
Sometimes it's necessary to create and test several ads so you know what is performing the best for you. Creating only 1 ad is just like running an ad in the newspaper just one time, i.e, not very effective. You can create 2-3 ad variations and let the ad network find and serve the best performer (set your ad rotation to optimize for clicks to let the network serve the best ads for you). Facebook ads make this process very easy, as you can add several different images with your ads and get analytics to show which image is clicked more frequently.
Well written ads are only part of an effective pay per click search engine marketing campaign. Once your PPC ads persuade a searcher to click, your website or landing page must now compel them to contact you and do business. It should look professional and above all offer them what they were looking for in the first place. They will be more likely to convert into a customer or a lead if the page they go to gives them exactly what they were looking for, so don't overlook this very important step.
Creating Banner Ads
The same principles should be used when creating banner ads as well. The bonus here is you can add splashy graphics to help make your ad more noticeable. Size up your competitors and set yourself apart. Don't crowd the ad with too much text, instead use larger fonts with fewer words.
Banner ads come in a variety of sizes, so be sure to check the specifications for whatever service you're using. Ads for Google Adsense may be different sizes, than if you're placing an ad directly on an industry website.
Your CTA can be a button, placed within the ad, but it helps to give people a better idea of what to do. Buttons are known to increase the click-through rate (CTR), so consider using them. Here is where the "Buy Now", or "Shop Now" button will work for you. Place buttons after your ad copy, typically on the lower right side, in tastefully contrasting colors to catch the eye. The entire ad of course will link to your website, not just the button, so make sure that your website or landing page is set up to convert once people get there.
Keep your visual branding intact and use your colors, logo, fonts, etc. This will help eliminate confusion for potential customers, as they will know who they are doing business with.
Animation can also be used in banner ads, but be cautious about over doing it and creating ads that are just to gaudy and annoying. Your ad should be tasteful and not remind someone of monster truck commercials.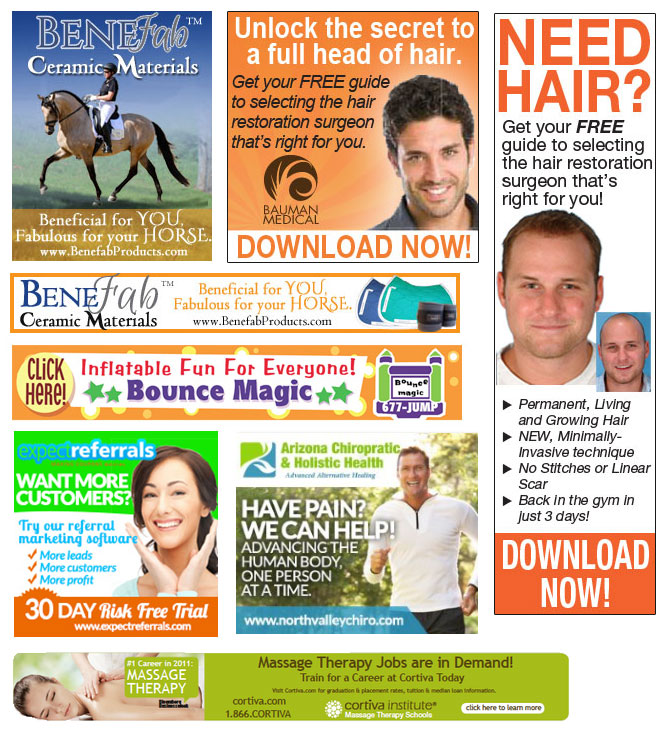 The effectiveness of these types of online advertising varies by business, and the only way to know for sure if it will work….and what types will work best for you…is trial and error. Banner ads may work better on industry specific websites, as opposed to ads placed randomly on other website by Google Adsense. Thankfully, since these are all pay per click types of ads, you're not typically investing large sums of money until people click on your ads, so make sure each click counts and set up your ads to be as effective as possible.