Meet 3 Family Farms Who Have Expanded Into the Consumer/Retail Market to Preserve Their Family Legacy
My passion in my business, and in my life, is agriculture, and helping those that feed the world figure out how to maintain the lifestyle that has been in their families for generations. They don't know anything else, and they don't want to do anything else. It's not just a job, it's how they live their life, every day, all day.
Those who work in ag are a close knit group. They don't talk much. They are humble, love God and their families above all else, and while most of the rest of the world enjoys a 40 hour work week, they don't know what that even looks like. They have dirt under their fingernails 24/7 and a passion for the land that is unwavering.
97% of farms in America are family owned and run. Sadly, the majority of these farms cannot survive any longer on just farm income. Often, while the husband works the farm, the wife has a job in town that provides extra cash and much needed health insurance benefits. And the farms are most often diversified in what they produce. One crop alone, whether it's calves or corn, is likely not going to sustain the farm all on its own.
For this reason, many farms and ranches are branching out beyond selling commodities into the consumer and retail markets, with various products. Some stemming from the crops they produce, some are the result of brainstorming and new business ideas that aren't always tied in to the farm.
In my efforts to help farms and ranches be more diverse, I've tracked down and interviewed 3 different farms to find out the why, what, where, when and how, in hopes that sharing their stories with my readers may inspire other farms and ranches to give it a try.
This will be a 3-part series of articles, featuring a former seed and livestock producer who has figured out a unique method of turning a byproduct on her farm into something that gardeners can't live without, a dairy in Missouri, and a cattle ranch in California that offers guests a glimpse into what life on a ranch is like.
Rankin Ranch - Caliente, California
The Rankin family has a long ranching legacy in Kern County, California, beginning with a cow-calf operation in the 1860's and one hundred years later, evolving to share their love of the ranching lifestyle with the public at their guest ranch, and now direct selling beef from their ranch to the public. Below is my interview with Amanda Rankin Barrett, 5th generation family member, who runs the day to day operations of the guest ranch and helps out with the cattle as well.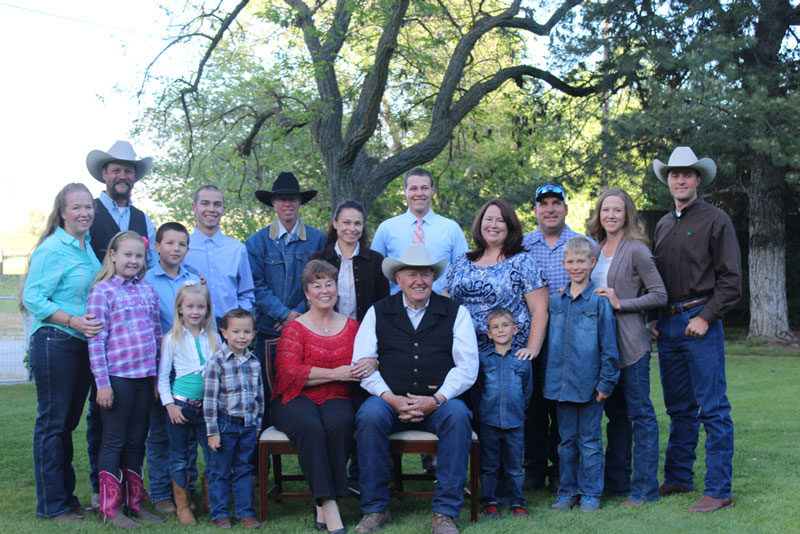 What was the original crop or product that your farm produced?
Amanda: My great, great grandfather, Walker Rankin, Sr. settled in Walker Basin in 1863, started the cattle ranch, and did some farming as well. We still grow grain hay and alfalfa, as well as growing produce on contract for a producer in the valley.
Why branch out into the consumer or retail market and what product did you decide to sell?
Amanda: My grandfather passed away in the 1950's, so my grandmother Helen was left to run the ranch. They had always enjoyed entertaining at the ranch, so as a means of diversification and provide a secondary income, she decided to open the guest ranch in 1965. She knew the the land was her biggest asset, so she utilized that as a way to keep the cattle ranch and their history alive, while providing for her family.
In 2014, partially in response to demand from our guests, we decided to expand even further and we began selling beef directly to the consumer.
So, tell me about the beef. With the current food market, and consumer demand for grass-finished beef on the rise, why did you decide to stick with grain-finished beef for your business?
Amanda: Partially because it allows us to provide a year-round, consistent product. We started selling the beef during the drought here in California, so we didn't have a whole lot of grass to begin with, and we really appreciate the quality of grain-finished beef. To some degree, it's a taste that our family prefers, so we wanted to provide a product that we also enjoy eating, not that there is anything wrong with grass-finished beef, of course.
It's an interesting thing when we go to the farmer's markets, and people ask us about our beef, and if it's grass-fed or organic, as these are two of the biggest niche markets at the moment. I explain to them the process of how we raise our cattle; that they're raised on grass here on the ranch, and then finished on grain, that they're never given antibiotics or hormones so are all natural. Our beef is also graded high-choice to prime, has been aged for 21 days, and is very high quality beef that is raised locally right here in Kern County. I think that people just want to know where their food comes from and how it's raised, and they want to understand the process.
What has been your biggest struggle?
Amanda: Time seems to be the biggest constraint. There are only so many hours in a day. For me, I grew up in a successful family business, with the cattle and guest ranch, so those are very comfortable areas for me. I've known it my whole life and I understand all of the inner workings of making those businesses run, but starting the beef was uncharted territory, to some degree. It's been a learning curve of all of the logistics of making that happen; from slaughter to aging to packaging, the supply chain and the details of the marketing and the timing of getting everything to market on a timely basis.
The key thing to making this work is the relationships with the feed lot, the butcher, etc. We couldn't do this alone. They are experts in their field and provide valuable insight as to how to get the best product.
What has been your biggest success?
Amanda: As far as the beef is concerned, I would say there has been incremental success. Every next step you take in expanding is kind of a new adventure. We started only selling beef at the guest ranch, and then we branched into farmer's markets, beginning with just one, and now we're up to three. Now, we're beginning to expand into restaurants and the wholesale market. The incremental growth and the milestones you hit along the way add to the big picture.
Eventually this could be a 3rd source of substantial income generation for the ranch, and that allows more of the family to be involved as the generations expand and adds to the overall value of what we're doing here.
What marketing practices are you using and what has worked the best for you?
Amanda: In the beginning of course, it was print ads and travel agents for the guest ranch. Now, we've moved primarily to online marketing, with our main avenue being social media. Word of mouth is priceless, for any business, of course. There's nothing better than happy customers telling their friends about what you do.
For the beef, it's been really interesting to see how social media can be so impactful. It has been with the guest ranch as well, but for a new venture, to see how people rally around that on social media is exciting. For the guest ranch it helps keep us in front of people, so that they think of us more when they're planning their vacations. The tend to think of us like family, so that connection has been vital to us, and we have many families that return year after year.
What is your biggest piece of advice for someone who is thinking about expanding their farm or ranch into the consumer market?
Amanda: I think that setting a realistic time frame for success is important, and sticking with it. There are many things that are challenging along the way, but you have to give it enough time to see if it's going to be a viable venture. You can't expect overnight success. We decided to give the beef five years and at that point we'll reevaluate to see if it's a success or not.