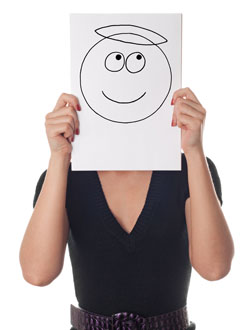 If you've never heard of Marie Forleo, you need to check her out. She is full of spirit, inspiration, wisdom, and hilarious as heck. Her vlogs are great to watch and I always pick up some really great stuff.
Her Q&A Tuesday segment is awesome and this week's post was about deciding who your ideal client is and sticking with that, to preserve your own sanity and energy. No, your ideal client is not "everyone"! I know that many of my clients have become good friends, and vice-versa, so it's important to work with people that "get" you. It makes every day so much nicer.
Once you consciously decide what type of people you want to work with, put it down on paper so you can manifest it for yourself. Just by the simple act of acknowledging it and writing it down, you will start to attract just those kind of people. Trust me, it works! Just saying it to yourself isn't good enough. Write it down and post it somewhere where you will see it everyday.
Marie's top ten are great – I think she would love to work with me! My top ten closely mirror her's, and hearing her really affirms to me that I'm on the right track, I am highly valuable and provide an excellent product, and if I stick with my guns I will attract the type of client I want to work with and that will appreciate working with me.
Here's my Top Ten Client Attributes, officially in writing for all to see (not necessarily in any particular order). Let me know what your Top Ten are in the comments below! You'll be doing yourself a big favor…….just do it!
Must be open minded to new ideas.
A real "git 'er done" type of person!
Take responsibility for their own success. Don't put everything off on someone else.
Someone I could see myself going on a long trail ride with. If I'd rather have my horse for company than you, we probably wouldn't do well working together.
They understand that they came to me for a reason and will take my advice.
Grateful to work with me.
They can appreciate the phrase "business hours", are punctual and respect my time.
They LOVE to recommend me to others.
They pay on time and are happy to do so.
They appreciate my direct approach and understand it is given with a huge commitment to help them.
Don't forget to leave a comment and share your Top Ten!