Perhaps one of the best opportunities to get found online is with one of the free local SEO services provided by the 2 major search engines. These listings will go a long way towards improving your overall SEO rankings, but especially your local rankings.
While you may be able to do business nationwide, or even worldwide because of the virtual world we live in, why miss out on the opportunity to really leverage local SEO and find people in your own community to do business with? I really enjoy meeting new and potential clients face to face, and I think it gives them confidence in me and my product as well.
Google & Bing both offer their own versions of local listings or "places", where you can list your business, hours of operation, what it is you do, upload photos, get found on their maps and get a link to your main website or blog. (Both Google and Bing require verification in the form of a code that you can either have mailed to you via snail-mail, or sent to you in a text message. )
So, let's assume you're looking for a website designer. If you type the phrase "web designer" into Google, you'll probably find designers from all over.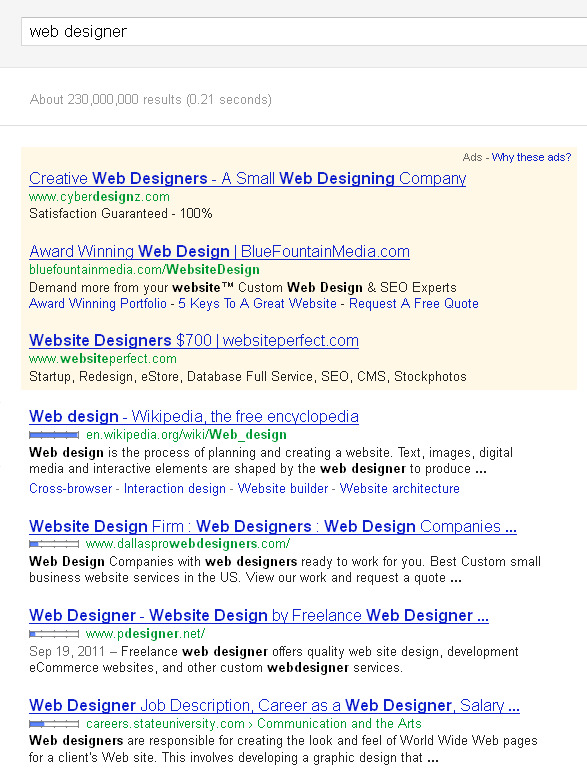 What appears at the top of our search results are the paid listings….these are the folks who are paying for advertising on Google. Below the paid listings, are the sites that have been around for a millennium, have thousands of backlinks, or are just big enough to pay the top SEO companies thousands of dollars every month to keep them optimized.
If you search for something more localized, such as "Porterville web design" (which is the name of the town that I live in), the results look very different.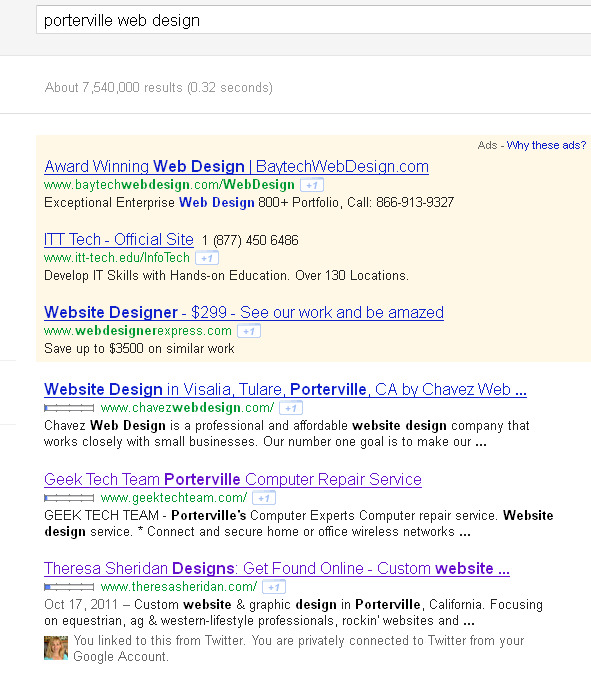 Of course the paid listings are still on the top, but then the results that are returned below that are for local companies. I'm happy to say that I come up on the 1st page of Google using this phrase, in 2 places.
If you click the "Maps" link in the left column of the search results page, you will be redirected to the same search, showing each location on the map.
Since I work out of my home, I opt to not show my address on the map, so I get the letter "B" on the map instead of an actual marker.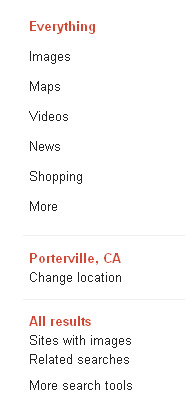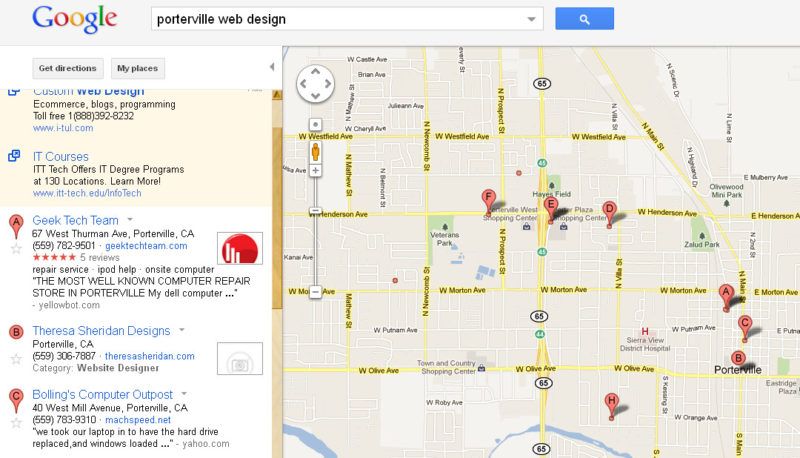 Here are a few tips for optimizing your local listings with Google & Bing (these will vary, depending):
Fill out your profile 100%. Don't leave blank spaces, upload as many photos and video as you can, and take advantage of every opportunity to optimize with vital keywords and backlinks.
Select your categories and subcategories to most closely represent what your business is.
Make sure you claim your listing, which is essentially verifying it, if required. Google & Bing require a code that is either mailed to you via snail mail, or sent via text message, depending on how you set it up.
Do not use a PO Box for your listing. Because the places and local features offer maps, they want a physical address. You can choose to hide your address from being printed, if you wish, as I do, since I work out of my home.
If you can, have your clients write reviews of your business.
To get you started, here are the links to each of the 2 major search engines local and places services –
For more information and articles on getting found online and optimizing your website, please check out the SEO category!