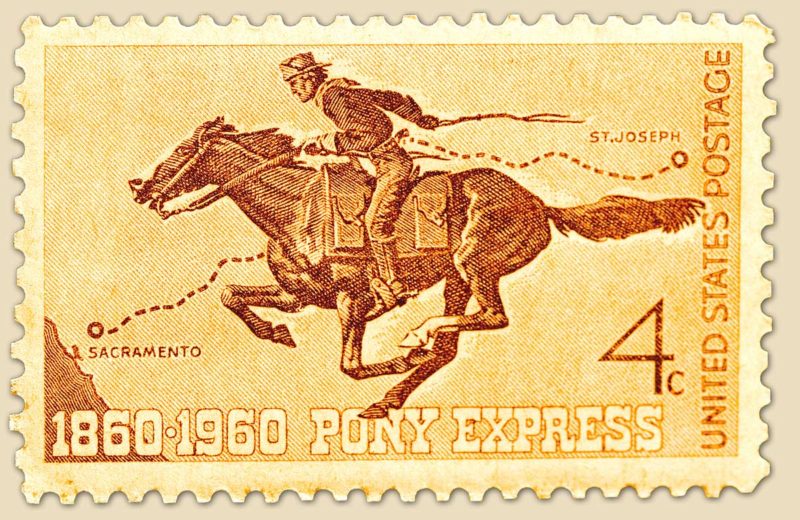 Email marketing has become an incredibly effective way to stay in touch with your followers and offer them valuable information. If they've signed up for your newsletter, they obviously already value what you have to offer and they are interested in learning more from you. This is the perfect opportunity to show them that you are indeed an expert. Thank goodness we've come a long way since the days of the Pony Express and now getting mail to your readers is much simpler, more dynamic and far more cost effective, too.
Email marketing should be an extension of your blog to some effect (online marketing with your blog was discussed in the previous Branding Pen post), if you have one – and I hope you do! It's important that the content you're providing to the readers that have opted in to your list NOT always be available on your blog at the same time. Your subscribers want to feel that they're getting the special stuff that you've reserved for them.
This isn't to say you can't re-purpose that material and turn it into a blog post at some point, but you'll want to save that for a later time when the article might need some revision and updating anyway.
As with everything we do for our content marketing strategy, it's about providing value, staying in touch, and connecting with our followers so that when they need something that we offer, they think of us first.
Why use an Email Marketing Service Provider (EMSP) instead of my regular email account?
There are several reasons to use an EMSP instead of just your email program like Outlook, Gmail or Yahoo.
The first and most obvious reason, is it's just more professional. You've gone through all this work to establish your brand, define your audience, you've invested in a logo and a website, you're posting on social media… don't blow it now and have your emails appear unprofessional and not well thought out. Using an EMSP allows you to create beautiful HTML emails that use your visual branding so your readers will recognize that it's coming from you. Sending a regular ol' email just doesn't have the same effect and you risk your emails not being read, which is a huge waste of your time.
And here are a few more reasons that you might not be aware of:
EMSPs provide you with opt-in forms. You know those handy forms where you can fill in your name and email address? You can get those from your EMSP and place it on your website or blog. When someone signs up, their name goes right into the database you've established with your EMSP. This will go a long way to growing your list, since collecting names is sometimes our biggest challenge.
You can only send so many at once. Most email providers, whether you have a local provider, or you use a service like Gmail or Yahoo, will only allow you to send and receive a certain number of emails per day. These are called relays. The number is different for each provider, but they obviously don't want zillions of emails clogging up their servers, when there are millions of users potentially sending and receiving emails. Depending on the size of your list, you could spend days sending emails in batches, which is an unnecessary waste of your time.
You can track your statistics. EMSPs allow you to track who is opening your email, if they're clicking through to your website from the links you've placed in your email and much, much more. This can be valuable information in creating your future emails, because it gives you more insight into what your readers want. If they're  not opening your emails, clearly you need to rethink some things.
Your database of names is more easily maintained. All EMSPs keep track of your database for you. You can easily import names, export your list, and add new names individually. Also, if you send an email that bounces and is undeliverable, the service will automatically remove this email from your list.
High deliverability. With an EMSP, your email has less chance of being marked as SPAM and hiding out in someone's junk mail folder forever. Most EMSPs are whitelisted, or approved by ISPs (Internet Service Providers) as a legitimate, CAN SPAM compliant (yes there are laws you must follow when sending out emails), permission based email delivery service. EMSPs also offer easy methods to authenticate your email, which will prove to ISPs that you are who you say you are, a legitimate non spammer sending emails to those who want to receive the information.
The information you want to share is not getting lost on social media feeds. With constant algorithm changes on social media, your audience is seeing less and less of your content all the time. With email marketing, the information goes directly to their inbox so you know they have a better opportunity to see and read it.
Getting Started
You may be asking yourself how to even get started with email marketing. It's not as complicated as you might think and it's pretty affordable, even free, in some cases.
There are many services you can use for your email marketing. They all offer unique features to their service, so it's important to check them out and decide which will work best for you, depending on what you need, which interface you like best, and your budget. And you're  not locked into any contract with any of them, so if you find one doesn't work for you so well, you can export your list of names and take it down the road to another service.
They all offer pre-made, semi-customizable templates that you can use, and you can create a completely custom template that matches your visual branding if you have some coding skills. (Your web designer should also be able to help you with this.) Most offer a plugin that you can use with WordPress and other web/blogging platforms so you can easily add your opt-in form to your website. Additionally, most are all mobile friendly as well. Many also offer surveys, event registration and image hosting (this can be important because without image hosting you'll need to upload your images elsewhere on the internet and then provide the URL for that image in your email).
Below is a short list of the most popular email marketing providers that you might want to look into:
Who will you send to?
Hopefully you already have at least a handful of people you can send emails to, but how will you find more?
The most common, and by far the simplest, way to grow your list is to place an opt-in form on your website, where people can enter their name and email address and voila, they're on your list and will get your next newsletter. Using an opt-in form, people are giving you permission to send to them, which by law you have to have, in order not to be labeled a spammer.
Place your opt-in form in a highly visible place on your website. If people have to scroll to find it, it's too low, and you'll reduce the number of people that will sign up.
Another tip for increasing your sign ups, is to offer some kind of freebie in exchange for their email. A short video clip, a short downloadable of some kind, a free tutorial… provide something of value, but don't give away the farm. Give them something that will inspire them to come back for more. This type of freebie can be set up in your EMSP as you create your opt-in form.
Other ways to collect  names might include at an event that you hold at your facility, an expo or trade show that you attend, etc. Get creative!
What content will you deliver?
Just as with your blog, the list of topics can be endless. Or endlessly boring. You really need to make it count.
Change it up and don't offer the same type of content every time you send. You can send helpful tips, how-to's, upcoming events, new features on your website,  new programs or services you're offering, the new stallion in your barn, or the latest calf crop. What about a recap of a recent event, or a customer-of-the-month feature? Be creative and think about what you would – or wouldn't – like to see in your inbox.
Here are some additional tips for writing good content:
Treat your readers like VIPs. People who have signed up to receive your emails are already pretty interested in you and what you have to say that they've given you permission to infiltrate their inboxes. Treat them like the dedicated fan that they are by letting them be the first to know about new products or services. Give them access to special benefits as subscribers, that the general public isn't privy to.
Keep it useful. Think about which emails you open and which you delete right away. You don't open an email that doesn't benefit you in some way. Make sure the content of your newsletters are giving your subscribers something they didn't have before. Don't just make it all about the sales pitch. You'll turn them off and they'll unsubscribe quickly.
Show some personality. As I've mentioned before in numerous places, YOU are your brand, and your personality is what makes it unique. Don't forget to share this with people in your emails. No one wants to read boring emails that are mostly just blah, blah, blah. Make sure the tone clearly speaks to who you are, as if you were having a conversation directly with that person.
Keep it short. Most people are bombarded with emails every day. Keep your newsletters short, easy to digest, and to the point. If you'd like to include a longer piece, feature the first paragraph or so and link away to the rest. Allow your readers the opportunity to scan quickly, if necessary.
Include photos. Just as with your blog posts, use photos interspersed throughout your content. It helps provide much needed interest and depth to your email and your reader won't instantly be turned off by endless words on a page (photo essays are nice!).
Your email marketing will no doubt evolve over time as you discover what your readers are really looking for. And if you're not sure what they want, ask them! You might be surprised to find out what kind of help they're interested in and your job is to provide it to them.
Some additional tips on how to make the most of your email marketing:
If your EMSP has the feature, set up an RSS campaign. This will pull content from your blog feed and deliver it right to your reader's inboxes based on the schedule that you set up.
Make sure your EMSP has mobile friendly email templates that can easily be read on phones and tablets. You don't want your emails to be ignored by an ever-growing audience of smart phone users, that aren't on their computers all that frequently.
Write a great subject line.  64% of people say they open an email because of the subject line (Chadwick Martin Bailey). Don't turn them off right out of the starting gate. Make it catchy, not a sales pitch. Ask a question, and if you can, personalize the question with the word "you". Don't make it too long, research suggests that subject lines fewer than 10 characters long had an open rate of 58% (Adestra July 2012 Report), however it might not be possible to write one that short. Do the best you can, and test out several types to see what brings you the most response (this is where the tracking that your EMSP can provide becomes really handy).
Use your reader's first  name. The research is somewhat conflicting here on how much this helps exactly, but I think that personalization is helpful. The problem arises when a user signs up to your list with just their first initial in the first name field, or writes their name in all lower case, and then it appears that way in the email. This can look a little odd, no doubt, but most people do type their name in sentence case, so it's not worth worrying about, in my opinion.
You can automatically insert the first name using "merge tags", which pull the first name directly from your database of names. Setting this up is different with the various providers, so you can check the help section on your provider's website for instructions on how to do this.
Send consistently if you can. Sticking to a schedule is best, if you can swing it. You might have to test out the best day (and time) to send, depending on your audience (again – tracking will help you determine this). Decide if you want to shoot for once a week, every other week, or monthly. Being consistent will improve the opens, but be careful that you don't overload your reader with useless information. This will only improve your unsubscribes, not engagement. If you wait too long in between emails, your reader may have forgotten that they subscribed to you in the first place and then unsubscribe, or worse, report you as a spammer.
You must have an opt-out. CAN SPAM laws require that all emails include a way to unsubscribe at the bottom, so don't neglect this important feature.
Include a call to action. A call to action can be very subtle, just an encouragement to click through to another article or offer on your website, perhaps. If you have multiple features in your newsletter, your call to action can be placed within one of those features, instead of the main article. Pay attention to the emails that you receive and take note of how they're laid out, what the content is, did it entice you to click further, etc. You'll gain a lot of valuable insight from the emails that others send. 7 in 10 people say they made use of a coupon or discount from a marketing email in the prior week (2012 Blue Kangaroo Study), so consider using something like this as a call to action, if it works for your program.
Know the CAN SPAM laws. You EMSP will have a link for you to review these, and they will automatically place the required verbiage regarding this in the footer of your email, so that you are in compliance. Another good reason to use and EMSP instead of just sending your emails all  on your own.
However you decide to do your email marketing, the important thing is that YOU'RE DOING IT! With practice and perseverance, you'll figure out how to make it work the best for you.