One of the problems that everyone faces when putting content on the internet is copyright infringement. Many people falsely assume that if something is out in the public on the internet, it's free for the taking. This is not the case! Anything published on the internet was put there by someone, and that person more than likely has copyrights to that information. If you want to use that information, legally you are required to ask permission before just taking it for your own use.
I wrote a blog post a couple of years ago, titled "The Copyright Mystery", which explains copyrights in much more detail, so I won't go into it again in this post.  In this post, we will talk about some of the ways to put a watermark on your photos, which will help to deter online theft of your images. A comment that was left recently on another recent post about optimizing images for the web, in which Ray of ToSaveAMarriage.org, asked what was the best and easiest way to watermark an image. I thought that this would make a great blog post, so thank you Ray for your suggestion!
There are several ways to put watermarks on your images, including free online tools, image editors such as Picassa or Photoshop, and even paid services that will scan the internet to see if your protected images are being used anywhere else.
The most common way is to put a watermark directly on your image using an image editor like Photoshop or Picassa.
Photoshop
Create a new file, and enter your copyright text in black, preferably a bolder font. I'm using Arial bold here. To create the copyright symbol, for Windows hold down the Alt key (Option G, for Mac) and type 0169.



From the Filter menu, select Stylize > Emboss.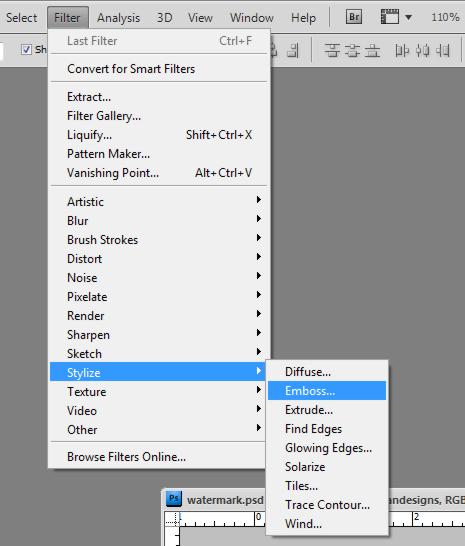 Adjust your settings to your taste and select okay. Make sure you have the preview box checked so you can see the results of your settings.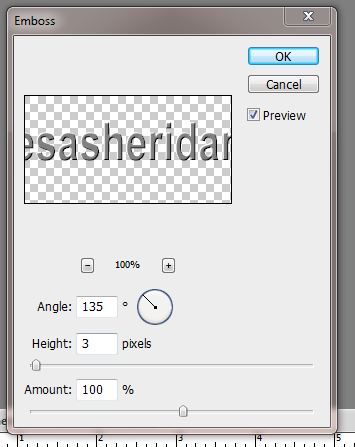 You now have a watermark file that you can use on all your images.
Open an image that you'd like place the watermark on, and drag it from your watermark file to the image file.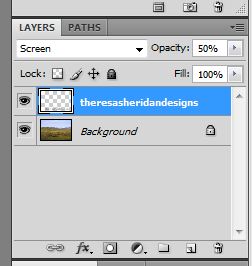 Here I've adjusted the blending mode to Screen and the opacity to 50% to achieve the result below.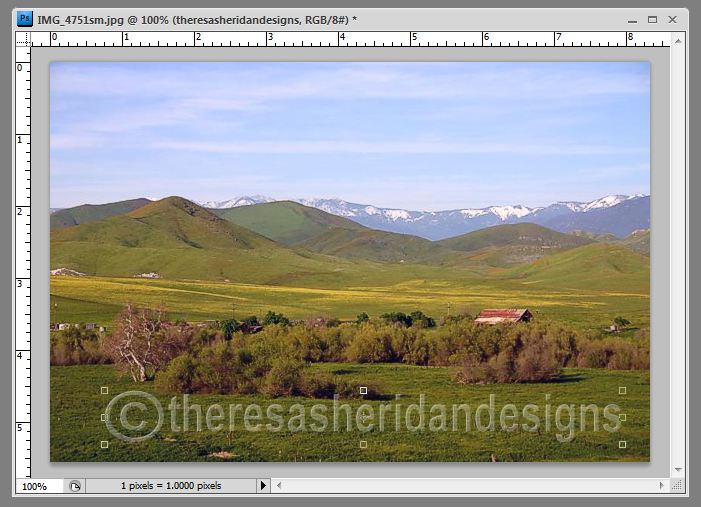 You can adjust the opacity to your taste so more or less of the image shows through the watermark design.
Picasa
Picasa offers automatic watermarking during import or export of your photos, simply by checking a box. You do not have as much control over how the watermark looks, or where it goes with this option, but it's a good option if you don't have Photoshop or another photo editing program.
Below are the instructions from Google on how to add a watermark with Picasa. To see these instructions on Google, please click here.
Adding watermarks to photos
You can help protect your images by adding a watermark to your photos. A watermark in Picasa is white text that's added to the lower-right corner of photos during the export or upload process. To add a watermark to a photo, please use the following steps:
During export
Select the photos you'd like to export.
Click the Export button in the Photo Tray.
Select the 'Add a watermark' checkbox.
In the watermark box, enter your watermark text.
Click OK. Your photos will be exported with your watermark in place.
While uploading
Before you upload, click Tools > Options (Windows) or Picasa > Preferences (Mac).
Select the Picasa Web Albums tab.
Select the 'Add a watermark for all uploads' checkbox.
In the watermark box, enter your watermark text.
Click OK. All uploaded photos will possess your chosen watermark.
PicMarkr
PicMarkr is a free online tool that allows you to upload photos from your Flickr account or your computer and apply the watermark, the save them again. You can do this in a batch process, so you don't have to apply the watermark to each individual photo, which is a handy feature.
You can select from a text, image or tiled watermark, different color options and placement, then save your images to your Flickr, Facebook, Picasa, or download them back to your computer.
With the paid version, you can also replace your images on Flickr with the new watermarked version.
These are just a few of the options available for watermarking & protecting your images. If you know of other tools & services that we need to know about, please let us know in the comments below!