If it's been a while since you last gave your website an overhaul, it may be time to think about that again. There are many factors that can determine if your website and your brand need some freshening up, but generally speaking, if it's been longer than 5 years, you are overdue.
Obviously, if you're changing up your branding, then your website will need some cosmetic updating, at the very least. However, an outdated website can have a negative impact on your business in SO many ways, so it's always worth taking a few minutes to peek under the hood to make sure the tech is still working for you, and that you're taking advantage of features that will allow you to provide the best user experience for website visitors.
While a good website can be updated to include some of the items mentioned below, if your website is in need of some TLC, simply adding an element or two won't improve how your website functions overall. For this reason, it's important to look at the website in its entirety, so that your visitors are getting a top-notch experience on your site.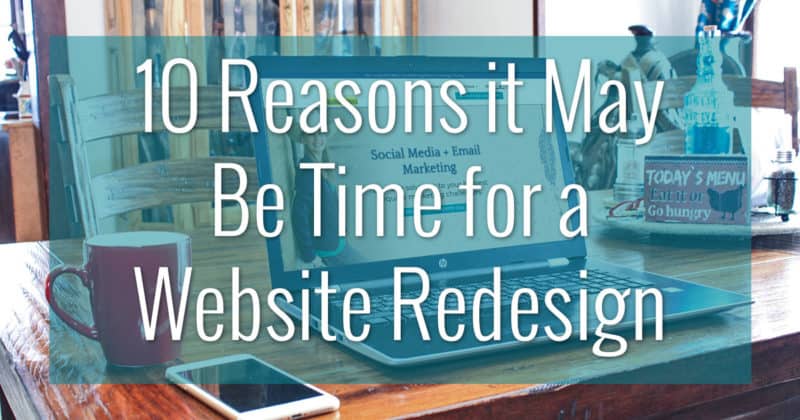 Below are 10 questions you can ask yourself that will help you decide if your website needs an overhaul.
Has your website been overhauled in the last 5 years? If it hasn't, it's pretty much a given that you should consider a redesign. Typically, after about 3 years, new UX principles have emerged, consumer demand has changed or your brand has undergone some of its own updates—all reasons to revisit your website experience and objectives. Modern website users demand that owners keep up with current features and functionality, so that their experience is more streamlined and they can quickly and easily get the information they need.
Has your branding changed recently? While changing up your brand colors is not reason enough for a full redesign, if you've fully rebranded, chances are good your aesthetic and brand messaging need to be updated throughout your website.
Is your website keeping up with modern design trends? Trends can change as quickly as technology, and statistics show that 48% of people cited that a website's design is the No. 1 factor in determining a business's credibility. That's too many people that might leave your site if your design isn't giving them a good first impression. I've said it more times than I can count during my career, but first impressions are EVERYTHING.
Is your website slow and sluggish? These days users are bit more impatient than they used to be, and with mobile use up every year, your website needs to load quickly, or they will most likely leave and go straight to your competitor. Improving your user experience is prime reason for a website redesign.
Is your site being found in organic search? While SEO is a beast unto itself, even a basic amount of SEO on your website and optimizing the structure, speed and content, can make a big impact on your SEO.
Are users taking action on your website? If conversion is low and bounce rate is high, this could be an indication that your site's layout is not guiding users through your flow and your messaging is no longer on point and should be re-evaluated.
Do you have a lead generator and email opt-in on your site? If you're not taking advantage of lead generation and email list building, you may be missing out on a key way to keep in touch with your audience and keep your business fresh in their minds. Yes, you can add this to almost any site easily, but if the rest of your site is outdated, users might not even get far enough to opt in.
Are form spambots and wanna-be hackers driving you crazy? If your site is outdated, chances are good that the security is also a dinosaur and can leave your site vulnerable to hackers. Alternatively, if your email inbox is filled with spambots submitting your contact forms, it's time to update and protect your website.
Do you find yourself visiting your competitors' websites and thinking that they look better than yours? Wait…. you haven't visited any competitor websites??? Best go do some research and check them out, so you are aware of what you need to be keeping up with.
Do you know how much money you may be leaving on the table, with a poorly designed or outdated website? A website redesign could be far most cost effective in the long run, because of the customers you may be losing with an ineffective website that is not working to its full potential.
If you can't answer even half of these questions positively, chances are high your website needs some TLC and there is no time like the present!
Let's work together!
If you're ready to learn more about how to finally get the website you need to grow your business, let's chat about it! Introductory calls are always free and I can help guide you to those crucial next steps!