While blogging may appear to be old news, it really still is an important part of your content marketing strategy.
Blogging can work together with your other content marketing to get ranked better on search engines and drive more traffic to your site.
Why, you ask?
Blogging provides you an opportunity to share your knowledge, establish yourself as an expert, build brand awareness and grow your following. Positioning your brand as an industry leader will create a larger audience for your products or services, helping you to grow your business.
Keywords within your blog post help to get you ranked more frequently with Google, because they have more opportunities to crawl content on your website.
If your blog takes off, you have the opportunity to monetize it with affiliate ads, which can be part of your passive income strategy.
So, all of this being the case, here are some great tips to get you started and for helping you make the most of your blog.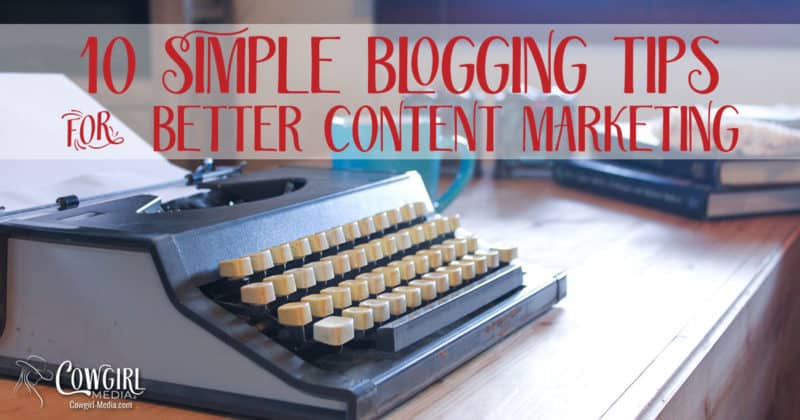 Do some keyword research. Use a keyword tool such as Ubersuggest or Answer the Public to help you figure out what keyword or phrase you want that post to rank for (each post should target a different keyword or phrase).Then sprinkle those keywords throughout your post, in a natural, conversational way. Don't keyword stuff!
Keep track of the questions that your audience or customers already ask you, either in your conversations with them, or on social media. This is great fuel for your blog posts, because you are giving readers what they want!
Don't be all business and no fun. People want to learn about you, the person, and what makes you tick, as this will help them connect with you better and WANT to work with you more. In addition to the business type posts, write about daily life, interesting people and/or animals, new tricks of the trade, fun adventures… you get the idea.
You don't have to write a novel for it to be a good post. And in some cases, you don't have to write much at all! Think photo essays, for example. You can caption the images to help with keywords and don't forget your ALT text!

A good rule of thumb is your post should be about a 2 minute read time, tops. Any more and you'll lose them. Be sure to drop a few photos in there for interest as well.

For SEO purposes, you would want about 300 words, but posts with less may still rank well, because they might be better received and shared by readers, who don't seem to be too interested in actually "reading" a good portion of the time.

Be sure to attach a Featured Image to your post. Depending on your main blog post page setup, it may show these images with the post title and excerpt, to encourage people to click through. If the post is shared to Facebook, this is the image that FB will attach to the post there as well. Sharing links without images is a waste of time, and we need every advantage we can get! Not sure how to do that? Check out this post for WordPress >Share Your Posts & Pages Perfectly with WordPress Featured Image
Be consistent. This is probably one of the hardest things, because it does take time. But you will be rewarded over time with larger audience and better search rankings. Posting once a month for a year is far better than posting once a week for 3 months and then nothing for 6 months.
Give away your knowledge. Yep, I said it. Don't be afraid to show people what you know, because if you don't tell them, they'll just Google it and find the info somewhere else. And then they won't get to know you! Trust me, you don't have any secrets that many others don't have as well, and there are no secrets in a world where everyone has a smart phone and high-speed internet. Give them bite-sized pieces of information that is helpful, so you can sell them the full course meal later on.
Consider your blog post title carefully. Don't create a "click bait" title, that has no relevance to the post, because you'll just tick people off when they get to the post and realize it's not what they thought it would be. Use the main keyword phrase in your title if you can, and if you can use it in the first few words, even better.
Use internal & external linking for better authority. Once you have more pages and posts established on your site, you can begin linking them to one another. Let's say for example, you're writing a series of articles on a certain topic, and you wish to reference your previous post in a more recent one. Simply highlight the anchor text (the words you wish to use for linking) and add your link however your platform allows.

Internal linking is liked by Google, as it shows them you are continuing to provide relevant and related content that your reader will be interested in, thereby giving your site more authority, which will return your site higher in organic search rankings over time.

And don't be afraid to periodically go back through all your posts and see where you can add some internal links.

External links work in much the same way. Also known as outbound links, they can help lend more authority to your post, especially if used as a source to verify facts and information. They increase your site's relevance and help improve your reputation.

Be sure to monitor all your links with a link checker plugin, so you can remove or repair any broken links, which can hinder your SEO efforts. Visit this post for more info on that > How to Find and Fix Broken Links on Your WordPress Website

Share your posts! Send them out in a newsletter and post them on social media, so you can help to drive traffic to your site.

Extra tips for sharing to social media:
Instagram does NOT parse links so don't put the link in your IG post – it just looks silly. Instead send them to your bio and direct them to your website. Even better, check out video tutorial for creating an Instagram landing page right on your website!
Facebook has this thing that they want people to stay on Facebook and not leave for other websites, so posts that have a link in them don't do as well in the algorithm. Instead, talk up your post to encourage people to click through, add your featured image from the post and then add the link in the first comment.