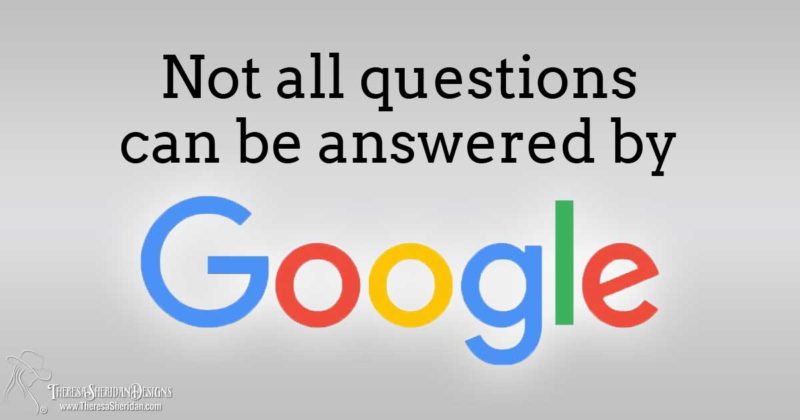 Over the years I have learned a lot from my design clients, and from prospective design clients as well. They certainly have taught me which questions to ask them, so that I can provide them with a product that they'll be happy with and that will work for them.
Most business owners who are looking to have a website built are extremely busy running their business, as it should be, so they haven't yet had the time or the opportunity to find out everything they need to know as a business owner about how websites will work for them, and why they might not work so well.
In my experience, I am most often asked the same four questions by new clients. Sometimes I think they all got together ahead of time to decide which questions to ask. How can they possibly all be thinking the very same thing?
This got me to thinking that other business owners must have the same questions, so I thought I'd answer these four that seem to come up so frequently, in the hopes that maybe I can help take a bit of the confusion out of it for some.
Since the pricing of websites is an obvious question and there is no "one" answer, I'll leave that one out, but listed below are the top 4 questions that new clients will ask me before, during and after their site build.
1. How soon can you get my site up?
People are often in a hurry to have their website built. They've thought about it for months, put it off, thought about it some more and now a deadline for an event or some other significant milestone in their business is fast approaching and oops! the website isn't built yet. When asked this question, I have a very simple response: I am as fast as you are. The sooner you provide me content, the sooner I can have your site complete. It seems that the people that ask me this question however, are most often the people that have the hardest time delivering content to me, so that I can build their site. Which brings me to another very often asked question…..
2. What, I have to write content?
The short answer is YES!!!!! The long answer is that of course you have to write content. I do not know your business as well as you do, and hey, I'm a web designer. I take your content and make it look great and help convert your website visitors into customers. I help you spit-shine it and lay it out for maximum effect. If writing content is not something you're comfortable with, may I suggest hiring a copywriter? Yes, people make a living turning your one mediocre paragraph into a full blown page of killer content that will sell you and/or your product. I know several, can I send you their contact information? And, if I may just point out, that while you may be brilliant at making doo-hickeys to sell, my guess is that writing is not really your forte either, so you might really want to consider hiring someone for this oh-so-very important aspect of your website. Having BAD content could potentially be worse than having NO content, so please, do yourself and your business a favor and consider this.
3. I have a website now, where are all the customers?
You've heard the popular phrase from the movie "Field of Dreams", "Build it and they will come"? I hate to be the one to break it to you, but this does not apply to websites. Just because you have a website doesn't mean that everyone will suddenly stumble across it. Consider the fact that there are currently almost 7 billion websites on the internet. The chance of someone accidentally stumbling across your brand new site is slim, so you have to do a bit of work to get it out there so that people will find it. Advertising, promotion, social media and lots of search engine optimization are called for here. If you need to know more about this, I've got lots of free articles here on my blog about how to get better search rankings and get found online.
Additionally, depending on who built your site, it may or may not be laid out and optimized for the best conversion of your visitors to clients. Maybe people are finding your site, but it's not compelling them to buy from you. There is quite a bit to learn about conversion also, so you might consider spending some time educating yourself on this topic as well.
4. Why am I not on the first page of Google?
The answer to this is partly in question #3, but the rest of the answer is that getting on the first page of Google takes time, knowledge, skill and lots of patience because it can be a tedious thing to accomplish. There is just as much off-site SEO to be done as there is on site, and this process can take months or longer to accomplish, even if your site is fully optimized and you are adding quality content regularly. Recognize that Google returns search results differently, depending on the location of the person searching, so optimizing your site for local searches will help with this. Do your keyword research, optimize your blog posts and content, find quality backlinks, learn, learn, learn, and most of all, be tenacious and patient.
If these are some of the questions that you've been pondering, hopefully I've helped to clear up a few things for you. If not, post your question in the comments below and I'll see what kind of answer I can come up with, just for you!
Save